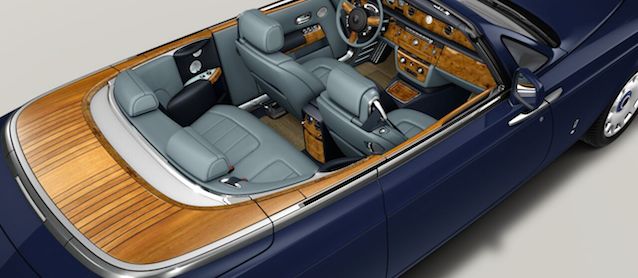 Check out the luxurious teak wood decking on the Rolls-Royce Phantom Drophead Coupe Convertible.

Inspired by the J-Class yachts of the 1930s, Rolls-Royce Motor Cars designed the Drophead Coupe to resemble an elegant motorboat. Nowhere is this more evident than on the convertible roof deck lid, which is covered in hardwood slats.
"The optional teak decking was inspired by classic racing yachts – hand-made from 30 separate pieces and cut from the same tree for consistent grain," explained Rolls-Royce. "Grooves are precision-machined into the wood then hand-finished with black yacht builders' caulk. The decking highlights the use of contrasting materials and sensuous tactility, and provides a discreet hiding place for the innovative soft-top."
Of course, that innovative soft-top is manufactured using Haartz Corporation's Sonnenland A5B/HT, a 3-ply fabric topping with polyester dobby backing.
The teak wood decking is optional and comes at a hefty price of $9,875. However, we can't imagine that anyone willing to spend nearly $500,000 on the base model would bulk at paying an extra $10K for such a gorgeous feature.