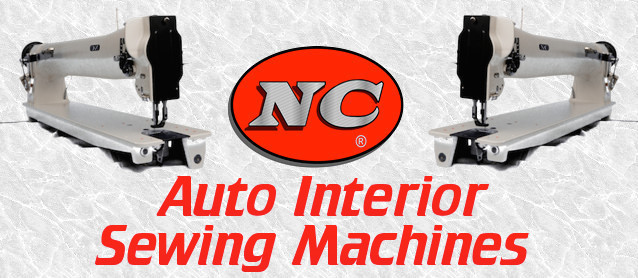 It's with great pleasure that we introduce The Hog Ring community to our newest site sponsor: NC Carpet Binding & Equipment.
For over 69 years, NC Carpet Binding & Equipment has been an industry-leading manufacturer of industrial sewing machines for upholstery, carpet, netting and turf.
Founded by family members Maliad Maher and Joseph Caplan after World War II, NC Carpet Binding & Equipment has a long history of innovation and is renowned for developing a range of custom sewing machines. In fact, NC Carpet Binding & Equipment invented the first bobbin-less, zigzag, double chain lock stitch machine to bind carpets in one pass, as well as the first bobbin-less portable carpet binder and portable serger.
Today, NC Carpet Binding & Equipment has a large selection of high-quality sewing machines for a range of industries — including automotive upholstery.
No doubt, you've seen some amazing car interiors that were trimmed using NC sewing machines. For example, Dan Miller Auto Upholstery in Westlake Village, California, used the NC6 machine to trim the interior of the VLF Force 1 supercar, which was showcased at this year's Detroit Auto Show. Many auto upholstery shops also use the NC6L, a long-arm sewing machine, that's the largest and most affordable in its class.
We spoke with Maliad's son Mal Maher, director of domestic and international sales, website design and marketing efforts, to learn more about what NC Carpet Binding & Equipment has to offer The Hog Ring community — and boy were we impressed!
Below is a transcript of our conversation:
What distinguishes NC machines from competitors?
We manufacture our carpet machines and source upholstery machines from the likes of Seiko- Japan. Of course, we are a large reseller of Juki Machines too. NC Specialty Machines like our 30" long arm and twin needle walking foot are sourced from a dedicated mill we've trusted for decades. In all cases, our machines are built to last a lifetime. In fact, many from the 1950s are still in operation today.
Which notable companies are operating on NC machines?
With over 16,000 clients worldwide, we provide equipment to the likes of General Motors, Honda, Gulfstream, Corvette America, all four U.S. Military Branches and Will Castro Designs of the hit TV show "Unique Rides" on Velocity.
However, the majority of our customer base is comprised of small, independently owned upholstery shops, carpet installers, carpet mills and carpet stores.
Every NC machine comes with a maintenance and training video that illustrates threading, usage, proper maintenance and minor repairs. The videos help accelerate the learning curve and teach operators how to maintain their NC machines.
In addition to selling sewing machines, what other services does NC offer?
We specialize in the setup of entire interior workrooms and sewing plants. In this, we help with every element of setup. Of course, discounted machine pricing is provided. Equally important, an onsite technician will accompany your equipment for factory setup and training.
Most recently, we set up factory workrooms for Embraer, Airworthy Aerospace and Worldwide Autosports.
Does NC also offer sewing machine repair services?
NC backs up its industry leading machinery with same-day repair service. Our second-to-none staff of engineers and technicians provide 24-hour turn-around time on all sewing machine repairs.  We also repair and stock parts for Juki, Consew, Seiko, Singer and Pfaff sewing machines.
In addition to selling new sewing machines, does NC carry used models?
Yes. At any given time we stock over 200 used sewing machines. We sell them as reconditioned units and they all carry a new machine warranty.
What's this we hear about 12-month, interest-free financing?
In 2012, we launched a 12-month, interest-free financing program. We pay all the interest for you, which allows you to only pay for your machinery and supplies. It's been a wonderful tool for existing companies looking to defer payments and has helped new start-ups blossom.
Does NC ship internationally?
Our family has shipped worldwide since the 1950s. We annually ship to six continents (sorry, no NC Machines in Antarctica).
NC Carpet Binding & Equipment has chosen to sponsor The Hog Ring because they believe in our mission to grow and strengthen the auto upholstery industry. Their sponsorship will help offset the costs of running this website, and allow us to continue bringing you industry news, product reviews and more.
Please show your appreciation by giving them your business. To learn more about NC Carpet Binding & Equipment's products and services, call toll free: (800) 526-1184 or visit www.n-ccarpet.com.