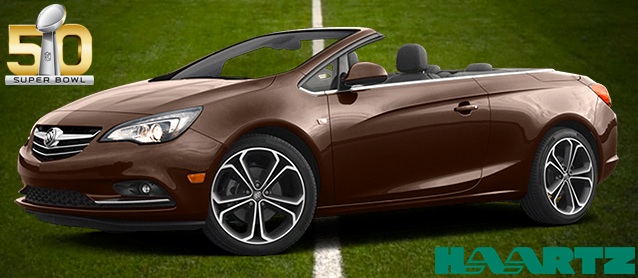 Proving once and for all that convertible cars are back, Buick is set to air its first-ever Super Bowl commercial on Sunday featuring the all-new Cascada.
The Buick Cascada is the automaker's first drop-top model in 25 years. Industry experts celebrated its debut at the 2015 Detroit Auto Show as evidence that the U.S. economy is back on track and that Americans are now ready and able to start buying convertible vehicles again — which, of course, is great news for auto upholstery shops.
The Super Bowl commercial will feature New York Giants wide receiver Odell Beckham Jr. and actress/model Emily Ratajkowski alongside the vehicle.
The Cascada, which is priced around $30K, is a two-door, four-seat convertible that features athletic sculpting and a soft top manufactured with fabric by The Haartz Corporation.
Buick chose Haartz' Sonnenland A5B/DS fabric, which is a high-performance acoustically enhanced three-ply topping with acrylic twill weave facing, rubber inner-layer and polyester dobby backing. The same fabric is used on the Bentley GTO, Audi R8 and Porsche Boxster.
Matt Williams, director of business development at Haartz, told us that he's excited about the new convertible, as well as its Super Bowl debut.
"I think that it's important because the model represents a mainstream offering at an attractive price point and a strong feature set," he said. Among its many features, the Cascada top is fully automatic and retracts in just 17 seconds while driving.
In December, Williams told us that the "future looks bright" for convertible vehicles.
"Our long-term forecast indicates a 39% growth in the convertible market from now to 2021. That's an increase of 216K soft-top vehicles per year being added by 2021. With new models coming from the likes of Mercedes-Benz, Fiat, Range Rover, Rolls-Royce and BMW…the future looks bright for soft-tops."
For auto upholstery professionals, that's music to our ears and money in our pockets!
So whether you're a fan of the Carolina Panthers or Denver Broncos, keep an eye out for the all-new Buick Cascada! Here's a preview of its Super Bowl commercial: