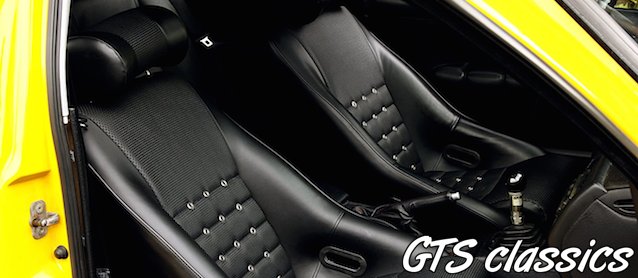 If you're into custom classic car seats, then definitely follow GTS Classics on Instagram, where owner and founder Stefan Schleissing regularly posts photos of his team's projects.
This Austin, Texas, shop specializes in designing, re-engineering and manufacturing custom seats for most cars dating as far back as 1950. Customers can choose among 24 different model seats and have GTS' team of upholstery pros trim them in custom or period-correct fabrics and materials. Seats can also be equipped with creature comforts, including lumbar support and seat heaters.
GTS Classics' website explains:
Our custom car seats are all handmade in the United States by using the finest leathers, leatherettes, corduroy in conjunction with the finest craftsmanship. The seats are made of a lightweight, protected steel tube frame. In addition to the fire resistant foam, the introduction of duralastic belts to the frames of the seats ensures a comfortable yet firm driving experience.
Many custom additions are what separates GTS Classic car seats from the other imitations. We offer lumbar support, seat heaters on all seats which will ensure comfort on long drives. You can choose the thickness of the foam to make your seats look more comfortable or more radical. Also, all our new steel tube frame seats now have the openings for the waist belts in the frame, and at your request we will install the opening surroundings for you.
Needless to say, GTS is a one-stop shop for custom classic car seats. But don't just take our word for it. Follow GTS Classics on Instagram to see for yourself:
To learn more about GTS Classics, also visit their website and Facebook page.