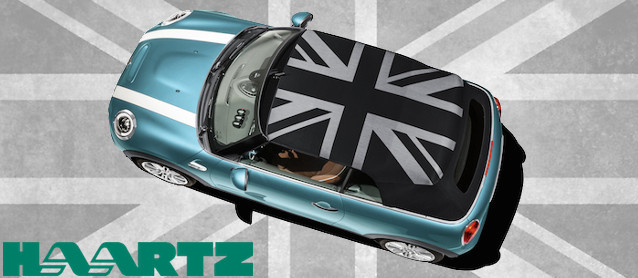 In 2012, we reported that The Haartz Corporation was experimenting with technology that would allow automakers in the future to create convertible soft tops with custom woven patterns — an industry first that could revolutionize vehicle aesthetics.
Well, the future is here, as the public can now purchase a 2016 Mini Cooper with a Union Jack woven into its convertible soft top.
The Union Jack is made possible with Haartz' jacquard weaving technology, where up to three distinct colors of yarn can be combined into an infinite number of weave patterns and color combinations.
We've seen Haartz' jacquard weaving technology utilized once before. In 2013, Chevrolet manufactured a limited-edition Camaro with racing stripes woven into its convertible top. However, the 2016 Mini Cooper is the first vehicle sold in the United States to offer custom weaving as an option on its mass-produced model.
Of course, the custom weaving does not harm the integrity of the vehicle's soft-top fabric in any way. The jacquard material is a three-ply topping with a rubber inner layer and polyester dobby backing. The material helps with improved acoustics and comes from Haartz' Sonnenland line.
Matt Williams, director of business development for Haartz, told us in December that the weaving technology is "providing design flexibility to the OEMs" — allowing them to use the same quality soft-top fabric in new and exciting ways.
What's more, Williams said the market for custom convertible tops is growing.
"We conducted research in 2014 that shows more than 65 percent of consumers would like to see more affordable soft-top convertible offerings and soft-tops are the best open-air option," Williams said in a recent press release.
Although it's not yet clear how custom weaving will affect the aftermarket for soft tops, you can bet that as more automakers embrace this technology, our auto upholstery shops will be tasked with installs. I, for one, am excited and can't wait!
To learn more about The Haartz Corporation, visit Haartz.com.