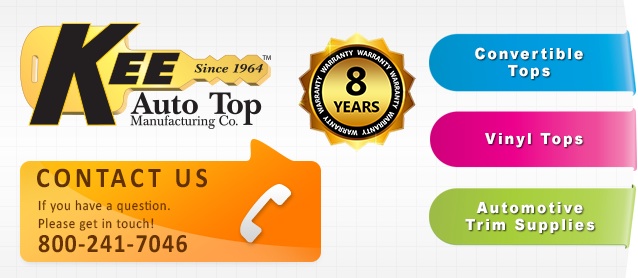 Check out Kee Auto Top's April 2016 newsletter for the latest sales and promotions on convertible tops, sew foam and more! This month's issue even features a helpful "Trimmer Tip."
Throughout April, Kee is offering a "Combo Discount" when you purchase any domestic convertible top and hard glass on a single invoice. That includes black/black pinpoint and Stayfast fabric.
Kee also has some slightly blemished convertible tops on sale for a steep discount. The tops are in great working condition and only have minor flaws. They're perfect for used car dealers or other budget-minded customers who need a top but can't afford to pay full price.
Also on special this month is 1/2″ sew foam (white, medium density with tricot backing).
For pricing details, contact a Kee customer service representative at at (800) 241-7046 or (800) 438-5934.
Check out the April 2016 newsletter below:
null
For those who don't know, Kee Auto Top has been a proud sponsor of The Hog Ring since 2013. We chose to partner with Kee because of their high-quality products and outstanding customer service.
Through sponsorship, Kee Auto Top is championing our mission to strengthen and grow the auto upholstery industry, as well as helping to offset the costs associated with running this website. Please show your appreciation by giving them your business.
If you haven't already, make sure to follow Kee Auto Top on Facebook and Twitter — where you can learn more about the company, it's fantastic products and stay on top of all their latest sales and promotions.
For additional information on Kee Auto Top's products, visit KeeAutoTop.com or give them a call at (800) 241-7046 or (800) 438-5934.