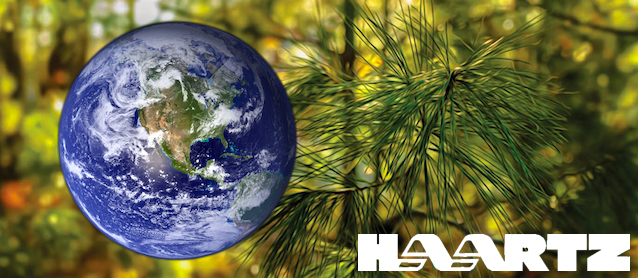 On this Earth Day we're reminded of the environmental impact that vehicles have on the planet and honor those industry manufacturers and suppliers who take steps beyond what government regulators mandate to ensure a sustainable future for us all.
One such company is The Haartz Corporation, the auto industry's leading manufacturer of convertible top fabric and interior trim. In fact, Haartz is a model organization because it's in constant search for new and innovative ways to lessen the environmental impact of its products and operations.
Below are five examples of how Haartz has done just that:
1. Haartz has reduced the weight of some of its most popular convertible top and tonneau cover fabrics, all while maintaining the highest levels of quality. The result is cars that weigh less and are more aerodynamic, which improves fuel efficiency.
2. Haartz has reduced or completely eliminated its use of chemical finishes, including those containing perfluorooctanoic acid (PFOA). Haartz has also replaced many of its solvent-based coating systems with water-based coating systems, which has significantly reduced the amount of volatile organic compounds in its products. Haartz has even introduced bio-based ingredients into the manufacturing of its PVC materials.
3. Haartz manufactures select fabrics with optional backing made from recycled materials, without negative effects to their physical durability or performance. These products include Twillfast RPC convertible top fabric, as well as Courotein and Alura hand wrap interior trim products.
4. Haartz has integrated energy reflective materials into some of its convertible top fabrics, which helps reduce the use of air conditioning. Internal testing shows that this technology can decrease cabin air temperature by 10°-15°F compared to traditional tops.
5. Haartz has cut its CO2 emissions by 40 percent from 2000-2012 at its Acton, Massachusetts, headquarters. This was achieved through multiple equipment initiatives and facility improvements, ranging from interior and outdoor lighting systems, drying oven efficiencies, to advances in their emissions control systems.
Best of all, Haartz is just getting started. "Our goal is to not only recognize the rich heritage of Haartz, but also work towards a sustainable future for the planet, our employees, and our customers," said Matt Williams, director of business development. "In business for over 100 years, we want to contribute to the next century of advancement in the automotive industry."
For these reasons and more, The Hog Ring is proud to call Haartz a sponsor. To learn more about The Haartz Corporation, visit Haartz.com.