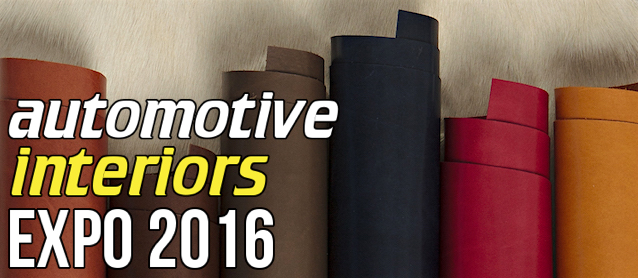 Did you miss last week's WardsAuto Interiors Conference in Detroit, Michigan? No problem. You still have time to register for next week's Automotive Interiors Expo in Stuttgart, Germany.
The event, which will take place May 31 – June 2, brings together automakers, interior manufacturers, styling houses, suppliers and trimmers to learn about and discuss the latest trends in the industry — and, hopefully, make the types of connections needed to help it grow.
The event's website explains:
Automotive Interiors Expo exhibitors represent the A-Z of car interiors, with our exhibitors' products being found in vehicles from just about every car manufacturer you can name, from Ferrari, Maserati, McLaren and Porsche through to GM, Volkswagen, Jaguar, BMW, Kia Toyota and Chevy, to name just a few! […]
You'll find a wide range of fabrics, acoustical materials, shape-forming materials and foams, fasteners and adhesive systems, lighting and more! The show is a must-visit for Tier 1 and Tier 2 suppliers as well as for interior design teams from car manufacturers wanting to keep up with the rapidly changing world of materials, finishes and technologies that contribute to 'touch and feel'.
Discussion panels include: "Interior trends and their effect on components, functions and materials," "Reinventing the luxury experience," and "Seat comfort for all shapes, sizes and sensitivities."
The event is free, but space is limited. For details and registration, visit Automotive Interiors Expo 2016.