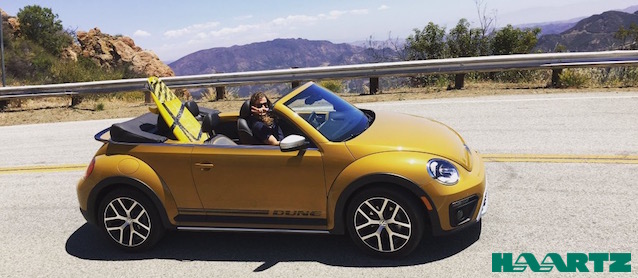 If you don't follow The Haartz Corporation on Facebook and Twitter, you're missing out on exciting news, product information, contests and more! In fact, they recently sponsored a social media contest pegged to the Motor Press Guild's annual "Droptops & Dirt" event in Malibu, in which Haartz gave away a $250 Amazon gift card and swag.
"Droptops & Dirt" is an annual event in Southern California, where Motor Press Guild members get to whip the hottest convertibles through a winding and scenic road course. They also drive trucks, SUVs and ATVs through a challenging off-road course.
Among the 11 convertibles on deck, members loved the Alfa Romeo 4C Spider and Buick Cascada the best. Of course, both feature convertible topping material by Haartz.
To enter Haartz's contest, participants had to submit a photo that best conveys the "California convertible lifestyle." Jim Ehrlich from Kelley Blue Book won for the above picture.
Congrats to Jim! For more contests, follow Haartz on Facebook and Twitter. Also visit Haartz.com for the latest news and information on their outstanding products!