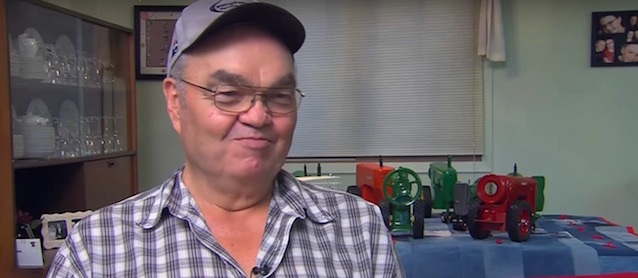 Lots of people collect antique sewing machines, but late artisan Roy Gaunt of Shelbyville, Illinois, transformed them into model tractors — a peculiar hobby that attracted legions of fans both near and far.
Roy, who recently passed away, grew up on a farm and worked as farmer well into his 40s. However, high interest rates forced him, along with many other American farmers, off the field in the 1980s. Still, he didn't stray too far from his passion, taking up work with a farm supply company that specialized in tractors.
In 2008, while retired and somewhat bored, Roy came across a magazine article about a man who transformed an antique sewing machine into a model tractor — and he loved the idea. "I kept the idea in the back of my mind for three or four months and then just thought, 'Well, I really could do that.' And so I made one," he told the local Herald & Review in 2009.
That first model was a big hit with family and friends, and it wasn't long before folks began requesting more. So Roy did the only logical thing — start a business and take orders.
According to the Herald & Review, here's how he built the tractors:
Gaunt explains that the bodies of old Singer machines and others from the 1800's and first third of the 20th century do actually look remarkably like the chasses of old farm tractors. His art is to heighten the visual tromp l'oeil effect with skilled tweaking here and there. Wheels from a push lawnmower become the big back tires, while front wheels, attached to adapted needle shafts, are the same ones found on Ertl-brand farm toys.
A particularly effective touch is the vertical mufflers above the engine canopy. "I use pieces of vacuum hose slipped over a little piece of round metal rod that I cut to length and paint," he said."
His tractor seats are liberated from the cutlery drawer in the shape of soup spoons bent to the correct angle, the bowl of the spoon a perfect miniature butt-shape. "And the older seats had holes bored in them, so I do that, too," said Gaunt. [read more]
Roy told Herald & Review that each sewing machine-turned-tractor took about two weeks to complete, and that prices started at $60. He kept prices low because it was a passion project never intended to make a lot of money.
"I mostly do it for the people," he told WEIU TV in a video interview featured below. "They're mostly ag-related people. Most of them are looking for something… What do you buy your husband after you been married to him for 40 years or 50 or whatever? This is something that's different, especially if they are still farming or are involved in farming or have been."
Sadly, Roy passed away in 2015. However, he completed more than 100 sewing machine tractors before then. What's more, his legacy lives on, with some folks taking up the hobby of transforming antique sewing machine — only this time into motorcycles.
Tell us: Have you created something unique from an old sewing machine? Let us know in the comments section below.