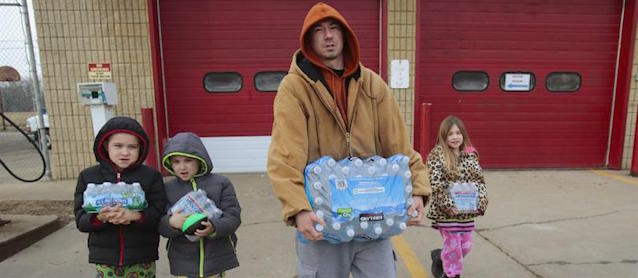 It's not easy to find the silver lining in Flint's water crisis — but at least one company is trying. C3 Venture, a manufacturer of plastics for automotive interiors, recently announced that it's investing $9.68 million to open a new facility in the Michigan city, where it will hire 380 locals to recycle plastic water bottles used by residents without access to clean tap water to produce components for Tesla Motors.
Long impoverished and riddled with crime, Flint made headlines in 2014, when in a cost-cutting measure officials decided to reroute the city's tap water from treated supplies sourced from Lake Huron to the untreated Flint River. Officials' failure to apply corrosion inhibitors to the new water source caused dangerous amounts of lead to leach from pipes into homes, contaminating drinking water and sparking a public health crisis. The local government did not respond quickly to the problem — in some cases denying it existed, which caused public outcry and accusations of criminal behavior. Michigan has since declared a state of emergency, and organizations across the United States have mobilized to provide residents with clean water until the problem can be solved.
C3 Venture, which develops eco-friendly products, recognized opportunity in the dire situation. By opening a facility in Flint, the company aims to take advantage of all the water bottle waste while simultaneously helping to revitalize the city's economy.
"This is work currently being done in China and we're moving it to Flint," Bob Schaffer, Chairman and Founder of C3 Venture, said in a press release. "Flint is a manufacturing town. Manufacturing is embedded in Flint's heritage and the work ethic here is strong. For those reasons, you could say that Flint chose C3."
He later added: "C3 stands for: Clean Air. Clean Water. Clean Soil. Producing parts for zero-emission electric vehicles is central to our mission. Our drive to be good environmental stewards extends to our manufacturing process."
Of course, C3 Venture is not the only company to recycle plastic water bottles into interior components. Both Ford Motor Company and Nissan Motor Company do the same. However, this particular project will serve as a much-needed boon to the Flint community.
C3 Venture plans to outfit its new facility in September and begin production in October.
[Photo: Reuters/Rebecca Cook]