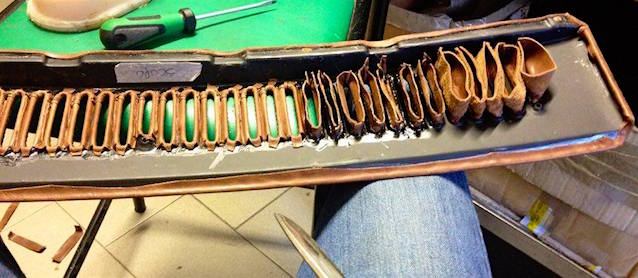 When Italian Federico Bonizzoni set out to upholster his classic Fiat 500 in leather, he didn't stop at just the interior. In fact, he covered nearly every square inch of the vintage car — including its body panels and wheels. Seriously!
The vehicle's interior was no easy feat, but its exterior is what's truly extraordinary. With the exception of its tires, glass, lights, drive train and some miscellaneous metal trim, everything else is wrapped in leather. To pull off the task, Bonizzoni followed the Fiat's bodylines, gluing leather with machine-stitched edges on every panel and then hand-stitching the pieces together.
Given how time-consuming and challenging the project was, we were impressed to learn that upholstery is just a hobby for Bonizzoni. Check out the following photos of his work:
Believe it or not, Bonizzoni isn't the first to upholster the exterior of a Fiat. Last year Fiat Automobiles itself called on Umbrian master craftsmen Stefano Canticelli to trim the exterior of a bespoke 500 for a charity auction.