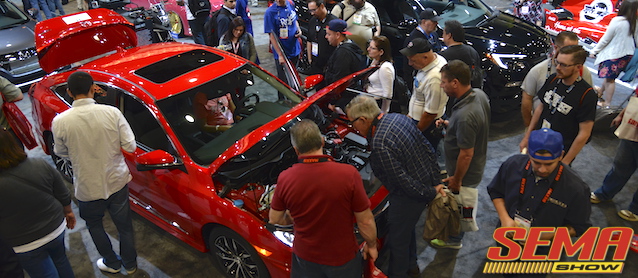 If you haven't yet registered for the 2016 SEMA Show, maybe this will pursued you: Larry the Cable Guy is scheduled to perform at the annual banquet! (Ok, that probably didn't do it. But there are plenty of other reasons to attend.)
The SEMA Show, the largest automotive aftermarket trade event in the world, brings together tens of thousands of manufacturers, suppliers and automotive professionals to browse, learn about and purchase the latest tools and products. It's also a great place to network, learn new skills, forge new business relationships and check out some awesome vehicle builds. Best of all, it's not open to the public — so only professionals will be there!
We attended the SEMA Show in 2013 and 2014, and had a spectacular time connecting with auto upholsterers from all over the world (and throughout The Hog Ring community)!
Here are details for this year's show:
When: November 1 – 4, 2016
Where: Las Vegas Convention Center, Las Vegas, Nevada
Cost: $40 online / $65 fax or mail, until October 14. After that, prices increase.
Events Include: Social Media Marketing, Small Business Guide to Tax Credits, A Restyler's Guide to Successful Dealer-Direct Sales, Interviews with Leaders & Legends, Automotive Interior Fabrication Tricks, etc.
SEMA begins mailing badges to registered attendees this month! To register, visit SemaShow.com.