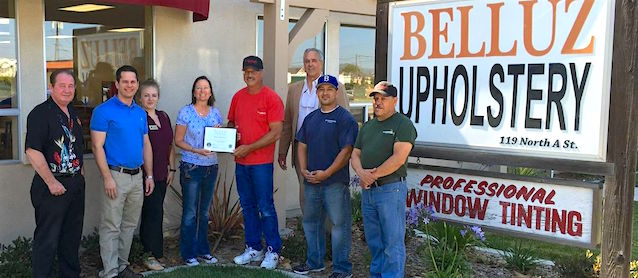 A hearty congratulations to Belluz Upholstery in Lompoc, California, for winning its hometown's "Economic Vitality Award," and serving as an example for other upholstery shops across the United States.
Lompoc's Economic Development Committee bestows the honor on businesses that meet at least one of two criteria: (1) They go the extra mile to maintain their street facade, which helps make the neighborhood look better and attract more business — thereby improving the local economy for everyone. (2) They prove themselves to be "economic leader[s] in the community by weathering economic downturns."
According to the Lompoc Record, Belluz Upholstery actually met both criteria. Earlier this year, the auto, furniture and commercial upholstery shop remodeled its entire building, including new awnings and showroom. In business since 1981, the shop has also endured some difficult economic times. However, it's always managed to keep growing.
No doubt, Belluz Upholstery's excellent work and strong reputation for customer service has played an integral role in its success. Check out the shop's Yelp and Facebook page to read what customers are saying.
Also, read the Lompoc Recorder's article: "Belluz Upholstery Receives Economic Vitality Award."