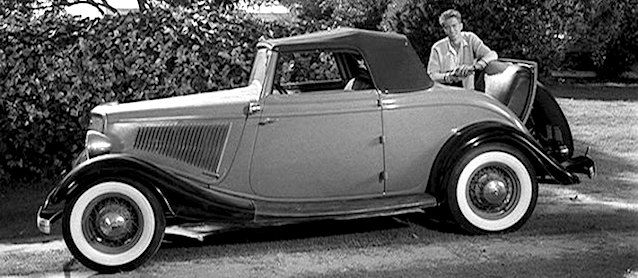 Auto upholstery shops that work on a lot of antique cars know that a "rumble seat" is a reverse trunk lid that opens to reveal a hidden bench seat in many old-school roadsters. But how many know where the term comes from?
Like a lot of trimmers, I always assumed that the rumble seat got its name from being situated right above the mufflers, where a sporty roadster would unleash its rumble. Right?
Well, not so much. As it turns out, the term actually pre-dates dual exhaust, high-flow cats and 3″ pipes. In fact, it pre-dates cars altogether.
Like so many other terms in our "Where did the term… come from?" series, the rumble seat actually stems from the era of horse-drawn carriages. What's more, the "rumble seat" and "jump seat," which we covered in a previous article, share a common ancestry.
Back then, a rumble seat (or jump seat) was merely an un-covered seat-frame attached to the back of a horse carriage that was intended for slaves or servants. This allowed rich folks to keep the help out of their leather-trimmed cabins and show them off as a symbol of their wealth. Sick, right?
Anyway, the rumble that came to define the seat was caused by its location above a live axle with 40″ wooden rims and no suspension. Combine that with several galloping horses pulling the carriage over rocky, dirt roads and you can imagine how jarring the experience must have been.
After automobiles were introduced and gained popularity, the term "rumble seat" disappeared for many years. However, it reemerged when automakers started hiding bench seats in roadsters' trunks — which were situated right above noisy exhaust systems, which also caused a rumble. (Seats they hid elsewhere were termed "jump seats," mostly because they didn't rumble so much.)
It's worth noting that some Americans call both the "jump seat" and "rumble seat" a "mother-in-law seat" — which makes sense, because honestly who hasn't fanaticized about stuffing his mother-in-law in the trunk?
Moreover, rumbles seats outside the United States are called "dickies," because that's what the British call trunks, and their empire pretty much spanned the globe.
Although automakers no longer make rumble seats and few offer jump seats, their legacy continues to this day. In fact, they are the predecessors to your SUV's fold-away third-row seat that can barely fit a toddler, but still upped your vehicle's price tag by $5K. (Ouch!)
Interested in learning more about the history of industry terms? Check out The Hog Ring's "Etymology" section. You can use the information to impress customers and sound like a real interior guru!