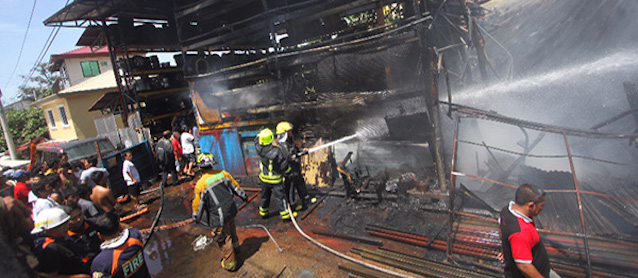 A fierce blaze has destroyed an auto repair and upholstery shop in Mandaue City, Philippines, and left a nearby family homeless, according to local reports.
The fire, which erupted early Friday, was unintentional. A shop employee was welding near vinyl and fabric inventory, when a spark ignited the entire lot, said Chief Insp. Ronaldo Orbeta, Cebu provincial fire marshal. The fire quickly spread through the shop and an adjacent house. Both were left gutted.
After much work, firefighters were able to contain the fire. No one was hurt, but the inferno caused P150,000 in damages. That converts to about $3,130 — which doesn't sound like a lot of money in the United States, but is about a year's salary in the Philippines.
Though it's not always possible to prevent fires, auto upholstery shops can take steps to limit their losses — such as welding far from textiles, storing combustible items properly, ensuring their buildings are up to code, and staying on top of their insurance policy coverage terms and payments.
To learn more about insurance policies, read our articles: "Is Your Auto Upholstery Shop Insured?" and "Understanding Auto Shop Business Insurance."
Also, please join us in wishing all who were affected by this blaze a quick repair and grand reopening!
[Photo by Joy Torrejos]