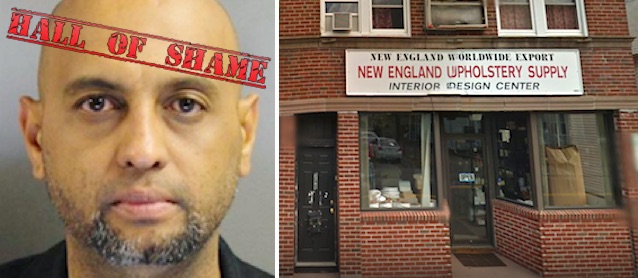 A man has been sentenced to 10-12 years in state prison followed by five years of probation for robbing an upholstery supply store in Quincy, Massachusetts. Of course, the crime also nets him a place in The Hog Ring's "Hall of Shame."
In October 2014, Gelfi B. Diaz, 45, went to New England World Wide Upholstery Supplies and spoke with the manager about automotive foam. At some point during the conversation, Diaz put a gun to the man's head, taped him to a chair and robbed the store. The incident was caught on the building's surveillance video system.
The manager told police that he recognized the robber as a regular customer who had been buying car seat foam from the store for nearly five years, but did not know his name or contact information.
Suspecting that the man was an auto trimmer, investigators began questioning other upholstery suppliers and shops in the Boston area. Eventually, they came across a woman who helped identify Diaz via Facebook.
Diaz was arrested and charged with armed robbery, kidnapping and assault to rob someone over the age of 60. He pleaded guilty last week and has since been sentenced to hard time.
Although it's still unclear whether or not Diaz was an auto trimmer, he is being inducted into our "Hall of Shame" for the simple fact that he messed with the wrong industry.
Stay safe everyone!