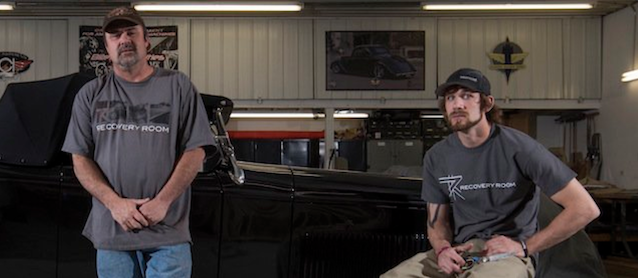 It's no secret that we're big fans of Tracy Weaver of Recovery Room Hot Rod Interiors in Plattsmouth, Nebraska. Not only is he a master craftsman and innovator, but also a trendsetter, whose designs have inspired countless builds throughout the auto upholstery industry.
Nearly five years after interviewing Tracy for our "10 Questions" interview series, we recently caught up with him to see what he's been up to and publish an update, which you can read in the December 2016 issue of The Shop magazine.
The six-page spread covers a range of subjects — from how Tracy learned the craft of auto upholstery to where he finds inspiration for his designs. He also shares his thoughts on the importance of fabricating interiors that are not just beautiful to look at, but practical to use. Of course, the interview is paired with a ton of photos of his team's jaw-dropping work.
Here's an excerpt from the interview:
"Ideas are everywhere you look," Tracy said. "I find inspiration in architecture, fashion, aviation, and newer-model cars. Also, I've always been a big fan of Art Deco and European design, so there's inspiration everywhere. And other times I just make up my own designs that I think will go with the look of the car we're working on."
To read the full interview, pick up a copy of The Shop magazine. You can also read or download a free digital copy by clicking here.
To learn more about Recovery Room Hot Rod Interiors, visit RecoveryRoomRodInteriors.com. You can also follow them on Facebook and Instagram.