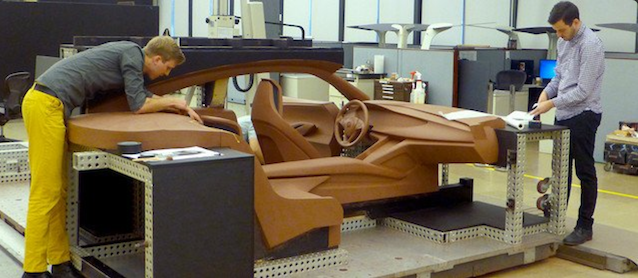 Most automakers agree that the most difficult element of a vehicle to design, engineer and build is its interior. Success is only achieved if it's functional, practical, safe, high-tech, attractive and comfortable for every passenger. What's more, automakers face the added challenge of forecasting drivers' preferences long in advance, as it can take years for an interior to go from design to production.
Every automaker contends with this challenge differently. Here's how GMC and Buick do it.
Digital Trends recently sat down with Helen Emsley, Executive Director of Design for GMC and Buick, and John Zelenak, Interior Design Manager for Buick, to talk vehicle interiors.
To our surprise, both Emsley and Zelenak were extremely candid in explaining how their General Motors brands take an interior from a vague idea to reality.
Here's an excerpt from the article:
"We'll put a brief together on interiors," Emsley relates, "and then we send it to all our studios around the world in America, Korea, Australia, Germany, and China. The brief says, 'this is the customer, this is the size of the vehicle, this is the package.' We'll say, within two weeks we'd like to have a conference call in the VR room where we can look at your sketches."
"It's called a sketch blitz," Zelenak adds. "It's an assignment for the world of GM designers. They bring all the sketches together and we'll have an executive review and filter through them all." […]
The next phase involves narrowing the field from dozens of sketches to just a few. Emsley and Zelenak have a process for making those cuts while preserving the variety of ideas.
"Some studios have the executive pick the five designs, but I don't like to do it that way," Emsley insists. "I'm very much into team." […]
Zelenak points out, "We have different buckets from conservative to wild, and in between." […]
Once the field of ideas has been narrowed to five, it's time to get a different point of view from Buick customers and from owners of competing brands. […]
At some point the automakers have to take their drawings and put them into physical form. They make models to understand how the car will actually work and also to get some kind of idea of how the car will be built, or if it even can be built. Out of the dozens of designs originally submitted, just a few will get the additional investment of a clay model. […]
This phase involves both the look of a design, and the leather, cloth, and metal components that will create additional sensory impression.
The interview goes on to talk about design "flops," like the Pontiac Aztec, as well as job satisfaction for interior designers, who are "the unsung heroes of the automaking world."
All in all, the article is a very eye-opening piece and a must read for anyone who designs, fabricates or upholsterers car interiors. Although shops like ours don't design mass-production cabins, it's still interesting to see how similar and different our workflow is to the major players.
To read the full article, visit: "How the inside of your car goes from clay to leather and stainless steel."