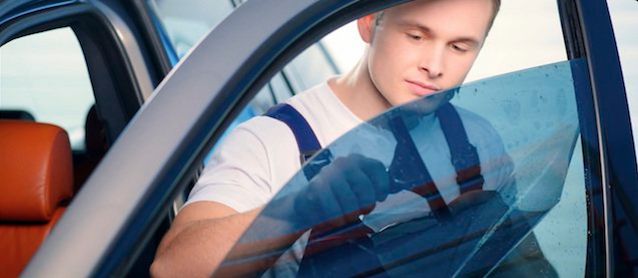 Increasingly, auto upholstery shops across the United States are adding window tinting to their list of services. The reasons are two-fold: (1) The skills necessary to tint glass are similar to those trimmers already have,  and (2) It's profitable work.
Shops considering this should read "The Benefits of Tinted Auto Glass," a recent article by news website Tech Featured that can help trimmers upsell the service.
The article examines a range of benefits to window tint — from privacy to UV protection — that shops can use as selling points when speaking to customers. Of course, to us the most important benefits of tint are those it provides to upholstery.
Tech Featured explains:
A huge benefit of having your car windows professionally tinted is the reduction of heat. By reducing the sun's constant radiation, you will protect and prolong the life of your vehicle's interior. Tinted windows have the ability to filter out up to 80% of solar heat, while regular untinted glass only filters out 30%. Tinting your windows will prevent fabric from weakening and plastic trim from cracking and fading. [read more]
By educating customers on how tinted glass can help protect their newly trimmed interiors, shops can be more effective in upselling the service. Of course, upholstery shops don't have to tint windows themselves, they can always partner with a local auto tint business and share the profits.
Nevertheless, trimmers interested in learning how to tint windows should check out Johnson Window Films University in Carson, California.
Johnson University, which has taught window tinting for more than two decades, offers two primary courses: 101 Basic Automotive and 201 Intermediate. The courses last five days each and cover everything from how window film is made to advanced installation techniques.
In September, we spoke to Spencer Robley of Johnson University, who told us all about the program and why trimmers find window tinting so easy.
"We teach a wide range of auto professionals how to properly apply window film. However, it's upholsterers that pick it up the quickest," said Robley. "No doubt, that's because of a shared skillset."
Justin Chasteen of Kustom Stitch in Knoxville, Tennessee, told us similar things when we asked him about his decision to offer window tinting.
"Smoothing out those wrinkles and air pockets, it's similar to upholstery," said Chasteen.
"A lot of times we're doing a seat repair and the customer says 'while you're at it do the windows on my truck,'" he added.
"Sometimes we make more money in a week on tinting than upholstery."