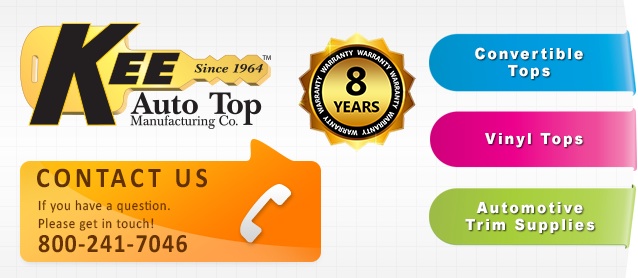 Have you checked out Kee Auto Top's clearance sale? Their website features a clearance section that offers steep discounts on loads of products.
Among the products on sale:
To take advantage of these great deals, you'll have to act fast. The clearance sale is over as soon as the listed products sell out.
Kee Auto Top is a leading manufacturer of convertible and vinyl tops since 1964. Their catalog includes tops for nearly every domestic and imported vehicle from 1940 to today. They sell other supplies as well.
Having originally started as an auto trim shop, Kee Auto Top understands the needs of top installers and shop owners alike. They know that quality products save trimmers time and money. That's why their research and development team works to ensure each of their patterns are precise for a perfect fit.
Set up a business account today by calling toll free: (800) 241-7046. You can also browse their catalog online at KeeAutoTop.com.