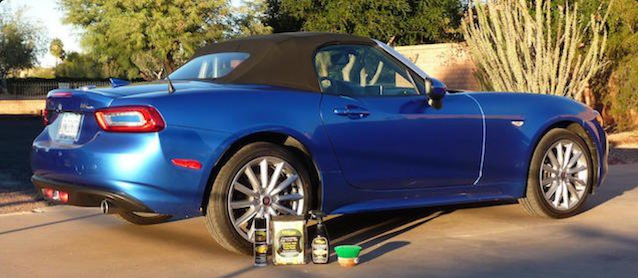 When it comes to cleaning and caring for convertible tops, The Haartz Corporation knows best. After all, they're the world's leading manufacturer of convertible topping.
Over the last year we've collaborated with Haartz to bring you care guides for cloth tops, vinyl tops and even winter weather. We also highlighted Haartz's new premium convertible top brush, which makes cleaning safe and easy. Well, BestRide recently put those lessons and tools to the test.
The popular car news website tasked Bill Johnson, the owner of a 2017 Fiat 124 Spider, with cleaning his convertible top using Haartz's lessons, brush and recommended RaggTopp cleaners.
Bill followed all the directions and shared his experience in the form of a pictorial published on BestRide. He even shared some helpful personal insight. For example, he suggests using a lint brush to remove fibers left behind by cloth rags, painter's tape to prevent hard-to-remove RaggTopp overspray, and even "parking defensively" to avoid tree sap and bird droppings.
The takeaway? The care guides, brush and cleaners work amazingly!
The pictorial is a must-see for everyone who installs, details or owns convertible vehicles. Auto upholstery shops, in particular, should share it with their followers on social media.
To read the article in full, visit "Tips and Tricks for Convertible Owners — Care and Cleaning of a Drop Top." You'll be happy you did!