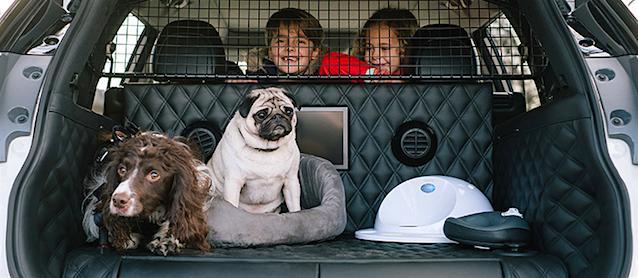 Nissan Motor Company just unveiled a new concept SUV aimed at dog lovers — and its interior is anything but ruff.
The Nissan X-Trail 4Dogs, which is basically a modified Rogue, features a diamond-quilted rear compartment that's jam packed with dog-related gizmos.
These include: A 360° doggy shower, blow dryer, pull-out ramp, spill-proof water bowl, computerized treat dispenser, harness and a two-way camera with 10″ screen and audio.
As bizarre as all that sounds, it actually comes together really nicely. Take a look for yourself:
For now, this kennel on wheels is a concept vehicle and therefore not available for sale. However, when Nissan does put the X-Trail 4Dogs into production, we're sure it'll fetch a high price.
(Sorry for all the doggone puppy puns!)