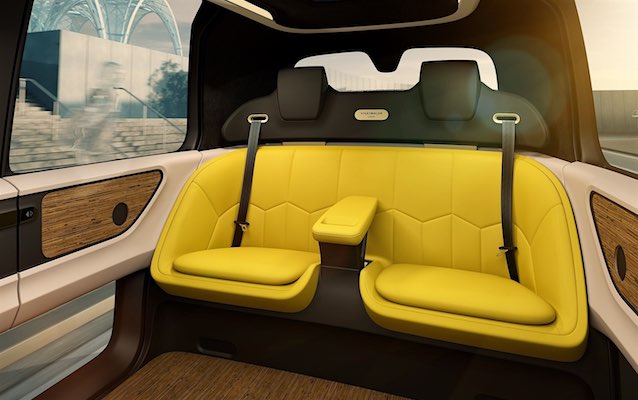 Sedric, Volkswagen's first self-driving concept car, looks like a giant, ugly caterpillar. But it's bright yellow pseudo-bench seat is downright gorgeous.
As a "level 5 autonomous vehicle," Sedric doesn't require human input to drive. In fact, it doesn't even have a steering wheel or pedals. Its lack of a cockpit, combined with its monobox shape, provides maximum interior space — including room for two giant bench seats.
The seats, one yellow and the other black, sit across from one another and are trimmed in premium birch leather. Volkswagen says the layout makes the interior feel like a "lounge on wheels."
Interestingly, Sedric also features a dashboard garden — an odd feature we also recently seen debut on the Rinspeed Oasis, another electric self-driving car.
Apparently automakers believe in-car gardens are going to be huge. Personally, I don't think so. But I am a sucker for a beautifully trimmed seat.
What do you think? Share your thoughts on the Sedric's pseudo-bench seat in the comments section below.