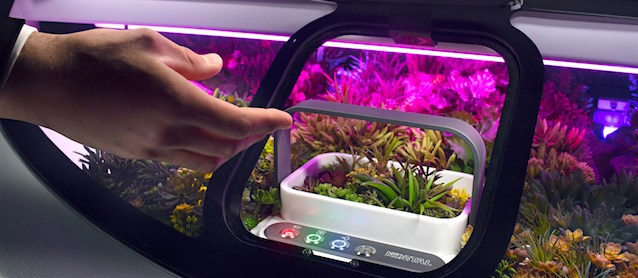 Swiss automaker Rinspeed caused a lot of folks to scratch their heads last year when it introduced its Oasis concept, which includes an in-cabin radish garden. Finally, after months of silence, someone involved in the project has taken a crack at explaining the quirky feature.
Stefan Buri, global director of marketing for Stahl, the company behind the interior, recently told Just Auto that the Oasis' cabin was designed to be a "third living space of the future."
Based on the premise that people spend a considerable amount of time in their cars, the theme of the Oasis concept car is 'the third living space of the future'. […]
We believe that, in the future, lines between industries will blur and trends in different living spaces will converge. The Oasis provides a distinct atmosphere and, with its armchairs in supple leather, large TV screens, wood flooring, ambient lighting, and a 'bit of green' in the form of a little garden on wheels on the instrument panel, reminds [the occupants of] a comfy living room atmosphere rather than sitting in a car.
It appears Buri is saying that car interiors and living rooms are merging to form an all-new type of living space that's neither wholly car interior nor living room. Fair enough. But this still doesn't explain the radishes.
Take a look at the Rinspeed Oasis for yourself:
If any other automaker was behind a car like this, I'd demand to know more. But maybe it's best we just let this one go. After all, Rinspeed is renown for its bizarre ideas — remember inflatable car seats?
Compared to that, I'll take a radish garden any day.