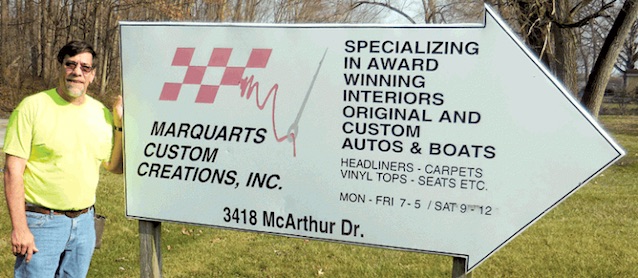 "Any job worth doing, is worth doing well," says Marcus Marquart, owner of Marquart's Custom Creations in Fort Wayne, Indiana. It's a motto he follows both inside and outside of his garage.
Marcus, whose been in business for 30 years and specializes in classic cars, was recently profiled by Waynedale News. Their article sheds light on Marcus' many professional and personal accomplishments, and showcases how a single trimmer and his shop can help lift a small community.
Describing Marcus' professional accomplishments, Waynedale News writes:
Marcus' responsibilities include everything from janitorial to marketing to research and bookkeeping. He laughingly claims, "the business owns me!" His business has international ties focusing on upholstery, tops and trimming of automobiles, aviation, marine and commercial applications, both original and custom. Many of their projects/interiors have won local, regional and national awards and titles and have been published in magazines and calendars. As "authorized installers" for an internationally recognized manufacturer, LeBaron Bonney Co., they do work on original automobiles from the 1920s to the 1970s. They also provide technical support assistance to their customers all over the country.
With all his success, Marcus still finds time to give back to his community. In fact, his shop has supported a number of worthwhile causes – ranging from the local food bank to breast cancer research.
Something you might find surprising, in 2008, Marcus donated 32″ of his hair as well as over $2,700 in donations from customers and family to "Locks of Love" for children with hair loss issues. His generosity doesn't end there as locally Marquart Custom Creations also supports the Waynedale Community Picnic, Kingston's Trunk or Treat for the Trails, Waynedale United Methodist Church Annual Car Show and Community Harvest Food Bank. Other charities they have supported include Junior Achievement, Officer Phil Program for Elementary School Safety, MDA, Cancer Society, M.A.D.D and Breast Cancer Research.
Hats off to Marcus and his team at Marquart's Custom Creations, who provide an outstanding example to auto upholstery shops across the country on how to not only run a successful business, but also share that success with their neighbors.
To read the full article, check out: "Any Job Worth Doing, is Worth Doing Well."