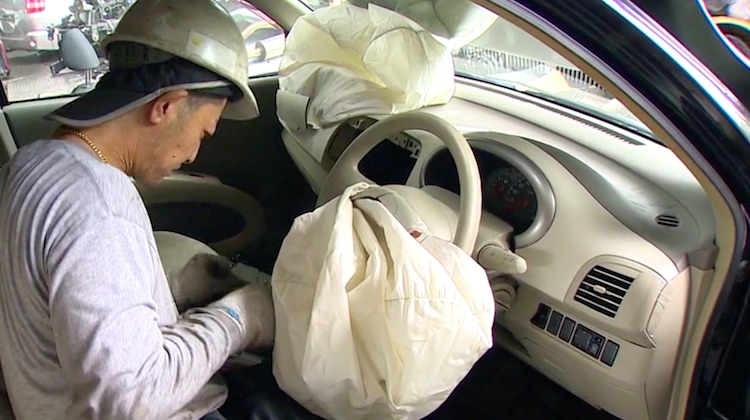 Auto trimmers need to be extremely careful working on vehicles equipped with Takata airbags.
Honda Motor Company confirmed this week that a man was killed while repairing the interior of a 2001 Honda Accord, which was equipped with defective airbags.
Honda said the man was injured on June 18, 2016 while "attempting to perform unknown repairs inside the vehicle using a hammer while the ignition switch was in the 'on' position. This triggered activation of the airbag inflator, which ruptured during deployment of the airbag."
The man suffered head trauma and died the next day. It is the 11th such death in the United States related to faulty Takata airbags.
The Japanese auto parts manufacturer first made headlines in 2013 when it was revealed that a chemical used in its airbag systems is exploding inflators and causing metal shrapnel to fly through cabins.
The discovery led to the largest automotive recall in U.S. history, affecting tens of millions of vehicles. The list of cars impacted continues to grow, with an additional 2.7 million added to the recall list just this week.
Automakers affected include Acura, Audi, BMW, Buick, Cadillac, Chevrolet, Chrysler, Daimler, Dodge/Ram, Ferrari, Fisker, Ford, GMC, Honda, Infiniti, Jaguar, Land Rover, Lexus, Lincoln, Mazda, McLaren, Mercedes-Benz, Mercury, Mitsubishi, Nissan, Pontiac, Saab, Scion, Subaru, Tesla, Toyota and Volkswagen.
As we all know, many car owners will never check to see if their make and model is on the recall list or have their airbag systems properly repaired. Therefore, the onus is on us to ensure we're not placing ourselves in danger.
Check to see if a customer's vehicle is on the recall list before starting any work that could mistakenly trigger the airbags. Some automotive technicians have even begun wearing hard hats and protective eyewear while repairing car interiors to shield themselves from possible shrapnel.
To see the full list of recalled vehicles, visit NHTSA.gov.