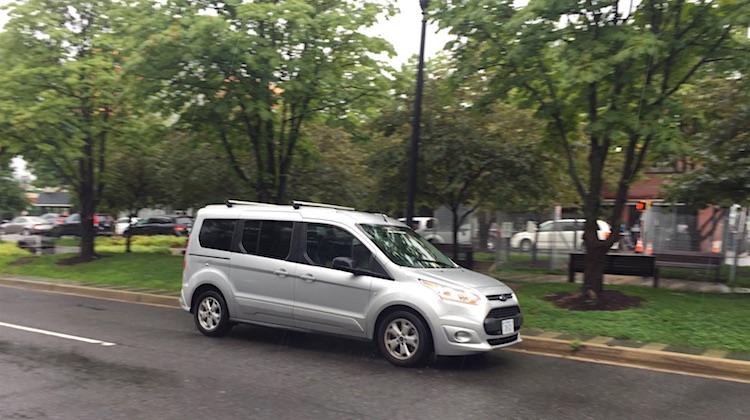 A Virginia Tech researcher caused confusion and panic in Arlington, Virginia, this week by dressing as a seat cover and driving a van around town—giving people the impression that the vehicle was operating on its own.
Residents in the Clarendon and Courthouse neighborhoods began calling police on Thursday evening to report the van they said was missing its driver.
Reactions ranged from fear to curiosity. Local news reports suggested that an automaker may have been testing an autonomous vehicle in the area. However, spokespeople for Arlington County, the Arlington Police Department, Virginia Department of Transportation and the Federal Highway Administration told Arlington Now they had no knowledge of such testing.
Eventually, though, the truth was revealed when NBC 4's Adam Tuss spotted the van and approached it only to find a person wearing a seat cover sitting behind the wheel.
The person's entire torso was hidden inside a seat cover. However, he was able to see through a mesh fabric where the headrest was and his arms poked out of the bottom to steer.
"I looked out and I said, 'Oh my God, there's a guy in a seat costume," Tuss said. "How's that possible? Your brain can't get around it for a second."
Here's me trying to talk to a man in a car seat costume @nbcwashington pic.twitter.com/e5humOM7uS

— Adam Tuss (@AdamTuss) August 7, 2017
The reporter asked some questions: "Brother, who are you? What are you doing? I'm with the news, dude." But instead of answering, the driver sped off.
Without any idea as to who was driving the vehicle and why, rumors began to fly and the story went viral.
Days later, Virginia Tech's Transportation Institute (VTTI) confessed that the car was being driven by a researcher who was conducting a study on how people react to driverless cars.
"The worker was wearing the uniform he was supposed to wear," VTTI told NBC.
Weird, but not unheard of. Remember this awesome seat cover prank that a person played on fast food drive thrus?