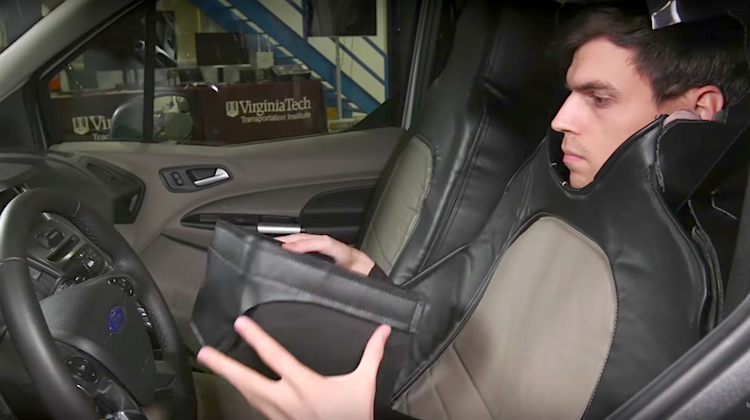 Remember the Virginia Tech researcher who caused confusion and panic in Arlington by dressing as a seat cover and driving a van around town? We now have more details on what he was doing.
The researcher was conducting a study on behalf of the Virginia Tech Transportation Institute and Ford Motor Company to see how people and self-driving cars will interact on the road, according to tech blog Wired.
"Today, subtle facial and body cues help drivers and walkers alike understand what moves cars will make next," writes Wired. "A wave says, I see you—hit that crosswalk. A nod says, I see you—make that turn. A middle finger says, well—you know what it says. But how do you translate those communications once the driver is a robot?"
In lieu of those gestures, the researchers installed an illuminated bar above the van's windshield that communicated to humans what the vehicle was going to do next. "Slow blinking meant, I'm stopping. Fast blinking meant, I'm starting. And a solid white light meant, I'm driving around all on my own," writes Wired.
John Shutko, a Ford engineer, told Wired that at first people don't understand what the light signals mean. However, virtual reality tests show that they quickly catch on.
In fact, Ford is working with 11 other automakers to create standard light signals for self-driving cars that will be easily understood across all cultures.
Anyway, back to the seat cover costume…
Ford and Virginia Tech needed the study to produce unbiased results. At the same time, they didn't want to put a self-driving car with imperfect technology on the road. They compromised by stitching a seat cover costume that would allow a researcher to drive the car without being seen.
The following video provides more details on the study:
Isn't science cool?
[Hat Tip: Chip Albright of Albright's Supply]