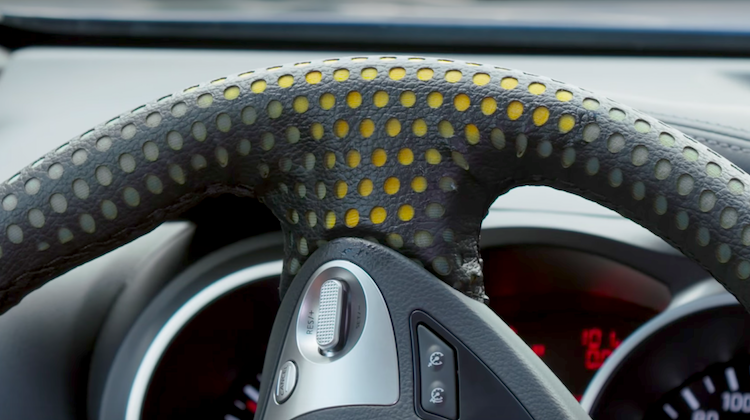 Did you know that dehydrated drivers can be just as dangerous as drunk drivers? Neither did we.
But Nissan Motor Company did. In fact, they developed a new vehicle fabric that detects and alerts drivers when they are dehydrated so that they can consume water and remain alert behind the wheel.
Sweat Sensitive Textile Coating, or SOAK, is a textile coating that detects and measures body sweat to inform people of their hydration levels. It does this by changing colors.
Design Researcher Paulien Routs and Droog Design combined this technology with vehicle fabric, which they used to trim a Nissan Juke's driver seat and steering wheel. The result, Nissan Juke SOAK, is a car that informs drivers when they're in need of more (non-alcoholic) fluids.
Drivers simply make contact with the fabric, which uses color coding to alert hydration levels. If the fabric is blue, that means you're sufficiently hydrated. If it's yellow, you're dehydrated. Any color in between means you're somewhere in the middle.
But just how important is it to stay hydrated while driving?
According to a 2015 study, dehydrated drivers make double the mistakes on the road than hydrated drivers. Symptoms include tiredness, headache, dizziness and slower reaction times. The study says the effects are similar to driving with a blood-alcohol level above the legal limit of 0.08 percent.
Nissan released this short video to explain more about the technology:
Of course, this isn't the first time automakers have integrated biometric technology into their car seats. Ford has a seat that detects impending heart attacks and Faurecia has a seat that measures and reduces stress levels.