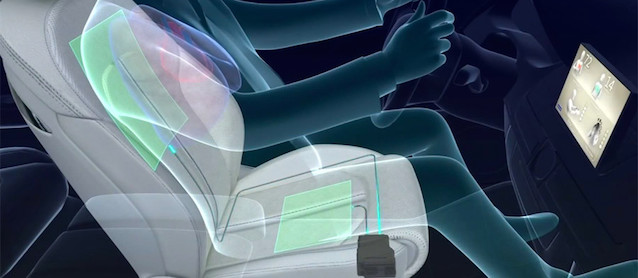 Faurecia, one of the world's leading manufacturers of vehicle interior components, recently debuted new car seat technology aimed at detecting and reducing stress levels. In other words, it helps cure road rage.
The "Active Wellness" seat employs a biometric sensing system that detects if a driver is stressed or tired and responds with a combination of massage and air cooling/warming therapy to help remedy the situation.
Olaf Biedermann, director of innovation at Faurecia, explained to Reuters news agency how the technology works:
"The Active Wellness seat is Faurecia's vision on the next level of personalized comfort. What we basically do is to monitor respiration rate and heart rate in the seat, and we derive stress and energy level from that. Then, having this kind of wellness being information, we now can offer a closed-loop comfort system; so in case you are stressed you get a relaxation massage, in case you have low energy levels you get a very energizing massage." […]
"We have a unique technology integrated; it is piezoelectric sensors integrated in the seat cushion. Very simple and robust, and our way to measure the information." […]
"Basically it's the stress level that we get from the respiration and heart rate information and the arousal or energy level. This is the two information. And we see critical trends of these two indicators; we decide to offer the person or the user either something for relaxation or something to energize."  [read more]
The technology, which was developed in partnership with NASA and the Spine Research Institute at Ohio State University, took five years to complete and is being hailed as the world's first health-monitoring car seat. However, it's not wholly original.
In June 2011, The Hog Ring reported on a car seat designed by Ford Motor Company that utilizes electrocardiograph technology to detect heart attacks before they occur – allowing drivers to pull over and seek help before it's too late. Other automakers are also developing smart seats that analyze occupants' biometrics.
Still, Faurecia's seat will likely be the first to hit market. In fact, the company says we could see the seats installed in vehicles as early as 2020.
No word, though, on how such technology will affect auto upholstery shops that repair and install seat covers. For that, I guess we'll just have to wait and see…