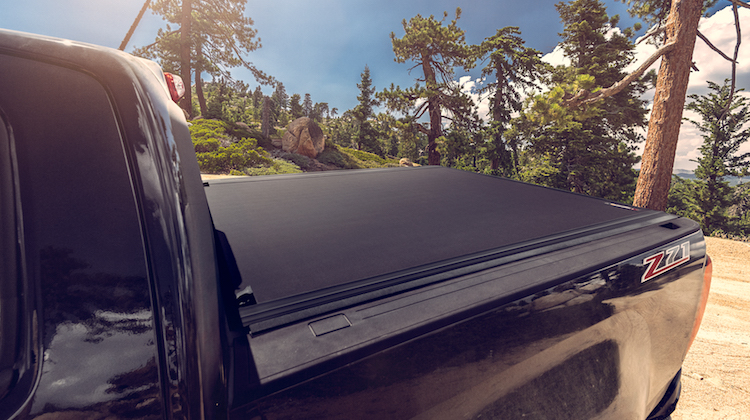 Auto upholstery shops that sell and install tonneau covers will be happy to hear that BAK Industries' highly-anticipated Revolver X4 tonneau system is made from an all-new Haartz material.
The Revolver X4, when closed, includes heavy-duty aluminum slats that secure the cover the full length of the truck bed on both sides, providing unrivaled strength and security.
The fabric topping — a polyvinyl chloride (PVC)-coated polyethylene terephthalate (PET) needlepunch nonwoven substrate — provides maximum durability.
Like Haartz's Cover All™ and DAN tonneau fabrics, it's also waterproof and resistant to UV rays, tears, cracks and shrinkage.
It even looks good, featuring cabrio-grain embossing that gives the tonneau cover a beautiful pebble finish.
"The embossing for this material is a specialty of ours, and we employed it along with a low-lustre topcoat system to achieve the desired aesthetics, making it truly unique for BAK Industries," said Gordon Goodwin of Haartz. "Also unique to the Revolver X4 are the matte finish rails and seals, for a finished OEM look."
We're excited by the new tonneau system, but not at all surprised. It makes sense that BAK Industries, an innovator of truck bed covers, would partner with Haartz, the world's leading manufacturer of convertible toppings and interior surface materials, to create this awesome system.
In fact, Haartz has been manufacturing tonneau fabric for more than 45 years and continues to enjoy a leading position in the tonneau fabrics market. Its products are used by major automakers and aftermarket tonneau system suppliers all over the world.
To learn more about the Revolver X4, visit bakindustries.com. For more on Haartz and its industry-leading materials, visit Haartz.com.
[Photo via BAK/THI]