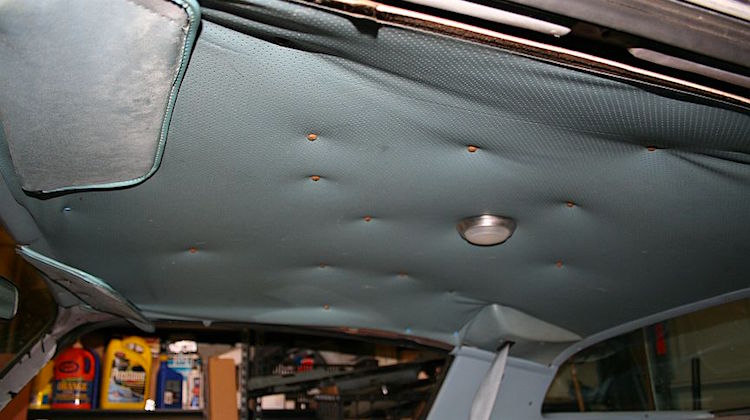 How much do you hate sagging headliners?
I guarantee you don't hate them nearly as much as Jason Torchinsky, a writer for Autoblog. He says the phenomenon of sagging headliners is "America's most embarrassing automotive engineering failure."
He recently wrote an epic rant about it that you have to read. It's as funny as it is spot-on! Below is an excerpt:
We've all seen cars with this problem: the fuzzy fabric that lines the ceiling of, say, a 1982 K-Car or a 1991 Buick Skylark becomes detached from the adhesive holding it to the roof, and begins to sag down in big, billowy arcs, pushing up against your head and making you feel like you're driving a Bedouin tent.
Usually, the central dome light is the only thing holding the whole thing in place, at least until you start jamming thumbtacks and pins in the fabric in a desperate attempt to keep it out of your face.
What makes this materials/adhesives/engineering failure so egregious is the relationship of how minor a thing it should be to fix, how much it devalues the experience of driving the car, and how damn long the industry had to correct it.
Cars were doing this since the 1970s; by the early 1980s American automakers should have seen that the problem was widespread and worthy of attention, but, somehow, this ridiculous, drapey bullshit continued for two more decades.
What's especially maddening is that solutions were already well-known: American cars of the 1960s did not have these issues, because they tended to use vinyl, stitched headliners. […]
What was going on in the American automotive industry that nearly every major manufacturer somehow couldn't solve or, even worse, couldn't be bothered to solve this gigantic annoyance? If the adhesives development over those two entire decades wasn't up to snuff, why the hell didn't they revert back to the headliners that were proven to work? Was that fuzzy crap really that much cheaper, or were focus groups demanding a mouse-fur-touch experience above their heads with such vigor?
Hilarious, right?
In all seriousness, sagging headliners stink. But auto trimmers can't knock the phenomenon too much because the money earned off their repairs has put food on our tables for decades.
Also, someone needs to tell Torchinsky that adhesives have gotten stronger since the 1970s. But in the end, gravity always wins.
To read the full rant on Autoblog, click here.