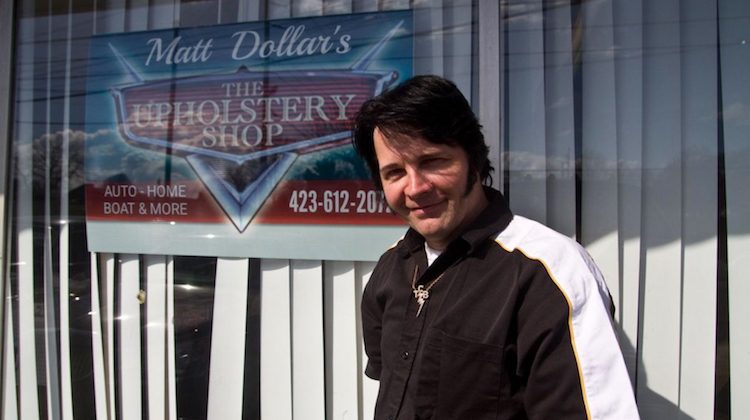 Matt Dollar of The Upholstery Shop was recently profiled in his local newspaper, but not for his skills behind the sewing machine. Rather, it was for his evening passion — impersonating Elvis Presley.
The Bristol Herald Courier recently published a story about residents of Bristol, Tennessee, who seemingly work ordinary jobs, but moonlight as rockstars.
Among them is Matt, who upholsters classic cars during the day, but takes the stage at night as an Elvis Presley tribute artist. Of course, he's also an avid collector of  King memorabilia.
Here's what the newspaper wrote about Matt:
A couple miles away on Southside Avenue, a black 1949 Buick Roadmaster sits in front of The Upholstery Shop. Matt Elvis Dollar runs the store. He works as an upholsterer of seats for cars, motorcycles and boats.
"Here's the deal," said Dollar, 45. "Every upholsterer has either died, and taken their secrets to the grave, or they've gotten too old. I do all the old school stuff – diamond pleating, tuck-and-roll."
Encounter Dollar in the morning at his shop or at night during a concert, and he looks like his namesake – Elvis Presley.
He wore a TCB necklace, one like the late Presley wore, around his neck while working in his shop on Thursday morning. On Friday night, he performed Presley's songs in downtown Bristol during a recreation of the rock 'n' roll king's 1968 Comeback Special.
"People recognize him all the time when we're out," said Rhonda Worley, Dollar's fiancé. "They'll say 'Elvis! Elvis!'"
Don't be cruel, Matt! Trimmers aren't old and dying. In fact, our craft is making a comeback!
In any case, we love that he's a full-trim trimmer, who's found a way to combine his passion for classics with the craft of auto upholstery. Like the King's favorite catch phrase, Matt is "taking care of business."