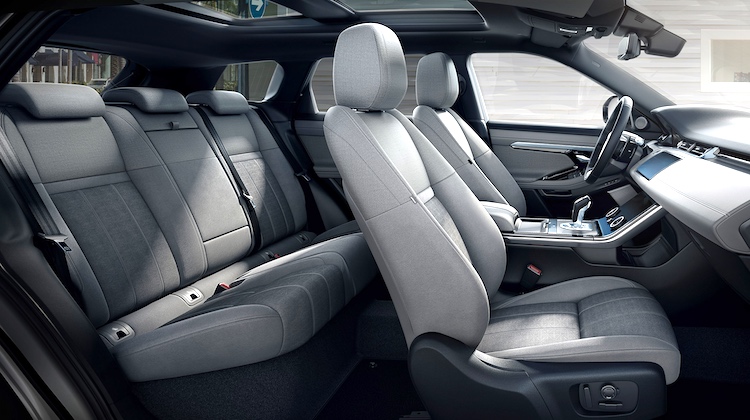 Land Rover is continuing its quest to offer premium non-leather upholstery options to luxury car buyers who prefer not to have their cars upholstered in leather.
Case in point: The 2019 Range Rover Evoque will be offered with optional wool- and plant-based fabrics, which the automaker insists are just as upscale as leather.
"We have traditional leather options, as many of our customers would expect," chief designer Amy Frascella said in a new video. "But we've also designed and developed what we like to call 'materiality options'. So non-leather, premium alternatives."
The first option, Kvadrat wool, is a wool-polyester blend developed by Danish textile company Kvadrat.
"Kvadrat is Europe's leading manufacturer of premium textiles, known for working with the tastemakers of our time, so it really was a great fit for us to work together," said Frascella.
"The wool is great because if you live in a warm climate it helps keep you cool, and if you live in a cold climate it helps keep you warm."
The fabric is 30 percent wool and 70 percent polyester. It's available in grey or white, and paired with Ebony by Miko, a synthetic suede cloth.
The second option, Eucalyptus Melange, is a plant-polyester blend developed by Land Rover.
"The Eucalyptus Melange is 30 percent tensile fibers, which are derived from eucalyptus bark, and the other 70 percent is polyester," said Frascella.
The fabric is paired with an animal-free, anti-microbial polyurethane material that's supposedly as tough as leather.
"They are very durable, have retained newness, and they are also cleanable," said Frascella.
Cool stuff! Though Land Rover needs to be extra careful not to badmouth leather.
Despite what critics say, not all leather is cruel or harmful to the environment. When sourced properly, leather can be more sustainable than synthetic vinyls and materials.
In fact, responsible suppliers like Hydes Leather pride themselves on working with sustainable tanneries.