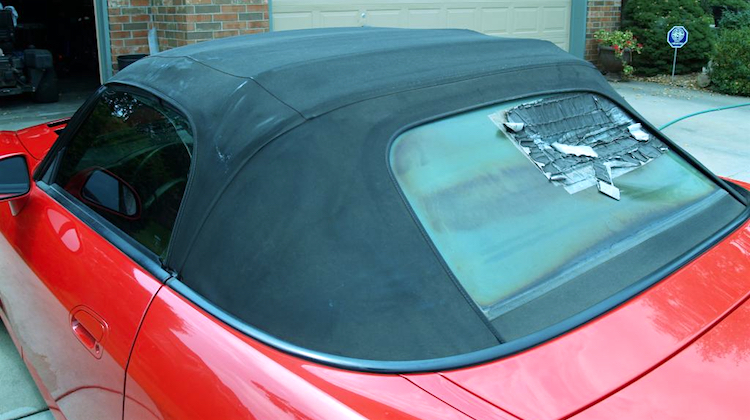 Every so often, Jalopnik publishes an epic rant about upholstery that leaves us in stitches. Their latest target is "shitty plastic rear windows."
Automotive writer Jason Torchinsky lays into plastic windows for looking cheap, turning yellow and cracking under the hot sun. He has legitimate gripes, but the way he lays them out is hilarious.
Here's an excerpt from the rant:
Plastic rear windows on convertible tops were found all across the automotive spectrum up until the mid 1990s or so, in everything from the humblest Geo Metro convertible to Fords to BMWs and Mercedes and even smug, grand Rolls-Royces.
No matter how amazing or expensive or well-built the car one of these plastic windows was stuck on, sooner or later the window would cloud up and get filthy and more and more opaque, until eventually it'd yellow and crack like some disgusting old man's heels.
It didn't have to be like this, either—it was known, for decades and decades, that you could install a nice, clear real glass window into a convertible top. […]
The question is, why?
I get that price would be a factor, and, sure, okay, maybe that'd be why Geo Metro or base-model Miatas would have plastic rear windows, but what about BMWs and Mercedes and other high-end cars? What's their excuse?
But there's also questions for the convertible-buying population of the time, specifically, why did anyone put up with this shit?
Rearward visibility is a big deal in a car, so why would you accept that after a couple of years, you'd just have to give that up?
Clearly, Jason has driven one too many Geo Metros in his time…
Still, it's important to note that today's rear plastic windows are much better than the old ones he's ranting about. Manufacturers have developed the windows to be more durable and able to withstand harsh weather conditions.
Furthermore, he's missing a really important point: With proper maintenance and care, plastic windows won't turn yellow or crack. So maybe it's the car owners he should really be ranting about. What do you think?
To read the full rant, see "It's Absurd We Put Up With This Crap for So Long."