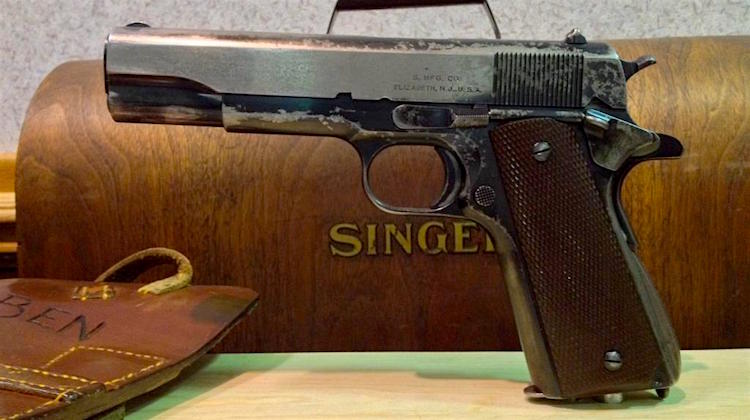 In 1850, Isaac Merritt Singer invented the first practical sewing machine for general domestic use, and nearly 170 years later The Singer Company is still making them. But did you know the company once manufactured guns?
For a brief period, between 1939 – 1945, Singer suspended production of all sewing machines to focus on wartime goods. At the time, American manufacturers across all industries were retooling their factories to assist the country with World War II.
As part of the effort, the U.S. War Department commissioned Singer with manufacturing a preliminary run of 500 M1911A1 pistols just to see if they could reach a production goal of 100 firearms per day.
Singer manufactured all 500 firearms, but was unable to reach the desired daily production rate. As such, Singer wasn't given the contract to produce any more pistols. Instead, the tooling machines were transferred to Remington Rand and Ithaca Gun Company, who went on to produce an estimated 1.9 million pistols for the war.
Still, the War Department was impressed by the quality of Singer's work — and so they contracted with the company to manufacture aviation instruments, such as navigation and targeting equipment, instead.
As for the 500 Singer pistols, they were issued to the U.S. Army Air Forces. But due to the Air Forces' high casualty rate, few pistols made it back from the war.
Today, Singer pistols are considered incredibly rare and highly valued among gun collectors. Some even call it the "holy grail" of pistols.
There are about a dozen Singer M1911A1 pistols left in known-existence. In 2017, one sold at auction for just over $400,000.
Too bad their antique sewing machines aren't worth nearly as much. Otherwise, we'd all be rich.
For more interesting articles about our craft's storied past, check The Hog Ring's "Industry History" section.