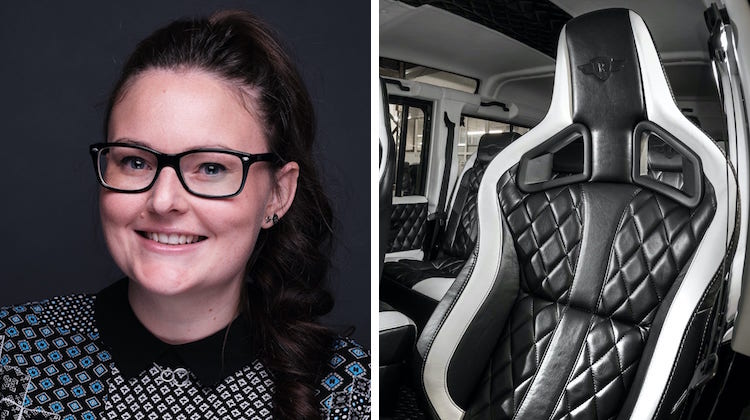 Congrats to Gemma Lee of Ruskin Design for winning "Best Apprentice" at the Leicestershire Live Women in Business Awards.
The awards celebrates the outstanding achievements of women entrepreneurs and professionals in England.
Lee started her apprenticeship at Ruskin Design in Wigston Magna as a sewing machinist and rose to become operations and design manager in only three years.
Lee excelled in design and has worked tirelessly to improve her industry knowledge and become a team leader, said Steve Castledine, managing director of Ruskin Design.
"Gemma's achievements are well-deserved, and we are delighted for her," said Castledine.
"She has demonstrated excellent organizational skills, is completely unflappable, a good listener and a quick learner," he added. "Gemma is also keen and ambitious and has proved herself to be a real asset to our business."
Ruskin Design creates upholstery for luxury car brands, including Land Rover, Mercedes-Benz and Porsche. The shop is known for taking a "fashion house" approach to car trimming. Their designs include the Diesel Jeans Land Rover Defender and Bumblebee Chevy Camaro.
In her capacity as apprentice, Lee designed the first ever vegan interior for a Land Rover, which received critical acclaim at the Great British Land Rover Show.
No doubt, Lee's future in our industry looks bright. We can't wait to see what she accomplishes next!
For more details, read: "Award Puts Top Apprentice in the Driving Seat for Car Interiors Firm."
To find an apprenticeship opportunity near you, visit our jobs page.