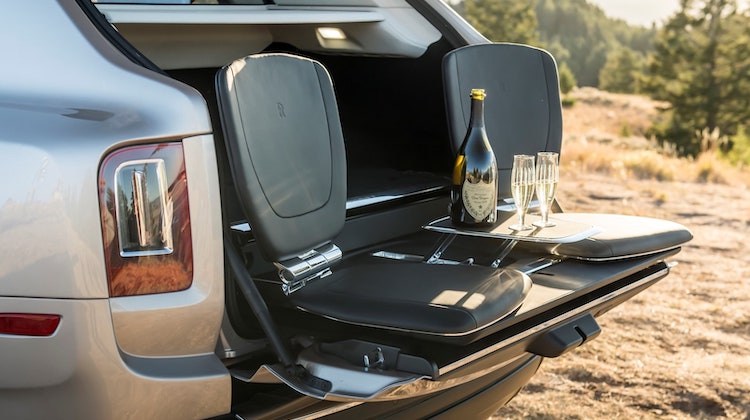 Even the super rich like to tailgate — right? Rolls-Royce thinks so. That's why it introduced a new "viewing suite" option for its Cullinan SUV.
But Rolls-Royce drivers won't slum it with the rest of us. Instead of folding camp chairs and beer bongs, they have leather-trimmed seats, storage compartments for champagne and a cocktail table.
What's more, it all deploys at the touch of a button.
"The Viewing Suite comprises two electronically deployable seats and a cocktail table which are presented and angled slightly inwards to provide a sociable viewing area from the rear of Cullinan," Rolls-Royce says on its website.
"There are buttons on the left and right hand side of the Viewing Suite to deploy and close the compartment that presents the seats. With the seats deployed, the upper compartment can be opened to present 2 storage compartments."
Rolls-Royce says its the perfect place for the rich to "take in the world's most breath-taking vistas or view a sports event or even watch their children take part in their school sports day."
Cool… I guess. But unless it has a beer pong table — or a big screen TV and pull-out BBQ grill, like the GMC Sierra — who cares?
The Cullinan starts at $325,000. The viewing suite adds to the price, though it's not clear how much.