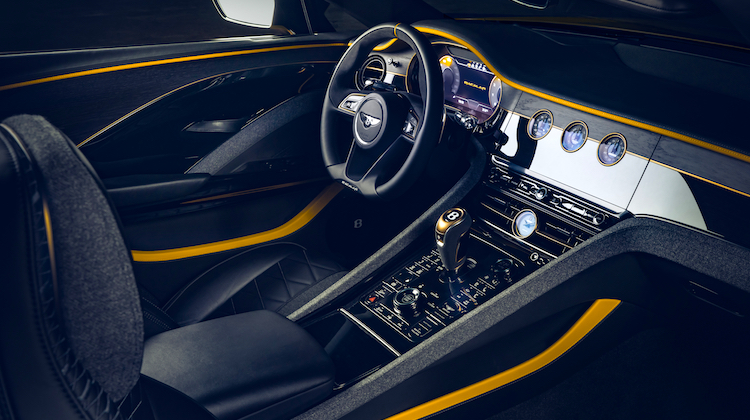 Super luxury automakers have a problem: car interiors are going high-tech, but there's nothing luxurious about technology.
Yes, wealthy car buyers love in-cabin gizmos just as much as the next guy. But they also place high value on craftsmanship — which isn't easily translated into screens, wires and microchips.
David Fearnley, lead designer for Bentley Motors, recently spoke to Forbes about the all-new Bacalar. During the interview, he mentioned why the $2 million car won't be equipped with touch screens:
Here's that portion of the interview:
While some manufacturers can go all-in on touchscreens, for luxury brands like Bentley it isn't so straightforward. No matter how pleasant the infotainment system user interface, you can't make a touchscreen feel luxurious, and Bentley can't go raiding the parts bin of owners Volkswagen in search of touch-sensitive buttons or screens with haptic feedback. Physical controls are still very much what's expected, and even required.
Fearnley said: "There was a major market shift towards touch capability, and for us one of the elements we wanted in the Continental GT and Flying Spur range was this ability for digital detox. Because I think one of the romantic elements of the grand tourer is you sit back and enjoy the drive, and the ability for the rotating display to rotate to the analogue clocks and take away that noise, that is something we are quite keen on…the ability to have that tactile element is important."
But Bentley can't get too stuck in its way. The industry is evolving fast and even sibling Porsche has gone all-in on touch screens with the electric Taycan, a car that can be bought with up to four of them, plus the all-digital instrument display behind the steering wheel.
Fearnley added: "It's a question across the industry and at Bentley we're facing it in our own way, and that is, how do you make the digital experience luxury? And how can you differentiate yourself from other companies? There's some very interesting research taking place at the moment which is looking at exactly that. How can you really involve the customer and give them a warmth to this otherwise cold display?"
As for haptic feedback, where a touchscreen gives the sensation of a physical click when pressed, Fearnley insists there must remain a "beauty in the physical elements, the 'clunk-click,' and we have that around the rest of the car. I think the ability to have a tactile interface with the vehicle is important."
Super luxury automakers aren't used to being in such a precarious position. They need to strike a balance between old-world craftsmanship and modern tech in a way that doesn't hurt their brand and still attracts new customers.
It'll be interesting to see what they come up with.
For the full article, read: "Bacalar and Beyond: A Lockdown Chat With Bentley's Lead Interior Designer."