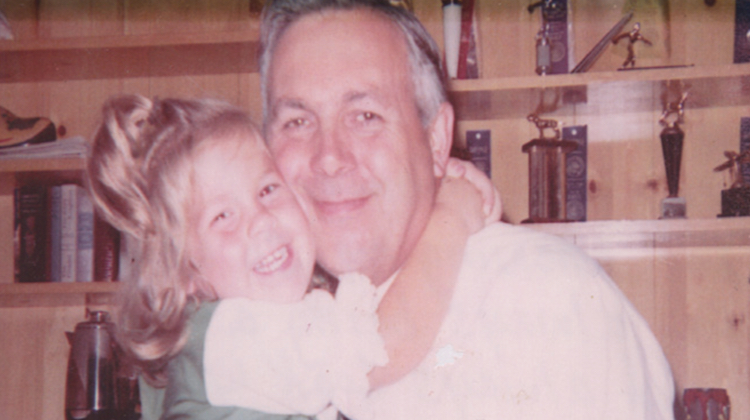 Electron Top kicks off its June issue of "Keep in Touch!" with a nod to fathers — particularly the late, great Fred W. Strauss Jr., founder of the company.
Kimmy, office manager at Electron Tops, writes a beautiful dedication to her father, in which she touches on the importance of fatherhood:
"WE are so grateful to have had a father that was so willing to invest so much of himself for the future and well being of his kids; 'strong men create strong children,'" writes Kimmy.
"In addition to creating a company; Electron Top, for his children to perpetuate, he also, rarely passed the opportunity to teach us something. Dad always said what was on his mind and was fervent in his beliefs, along with being extremely consistent in them. He was never stingy with advice, sometimes over- generous (tongue in cheek) and his wisdom was articulate and clean with solid lessons at their core." …
"Men play such an important part in the upbringing of youngsters. While women tend to promote self esteem and love in children … men balance with strength and logic. In a respectful and balanced ecology, this partnership works well in perpetuating a well rounded progeny."
The Father's Day dedication closes with a list of "Dadisms" that Fred passed on to his children.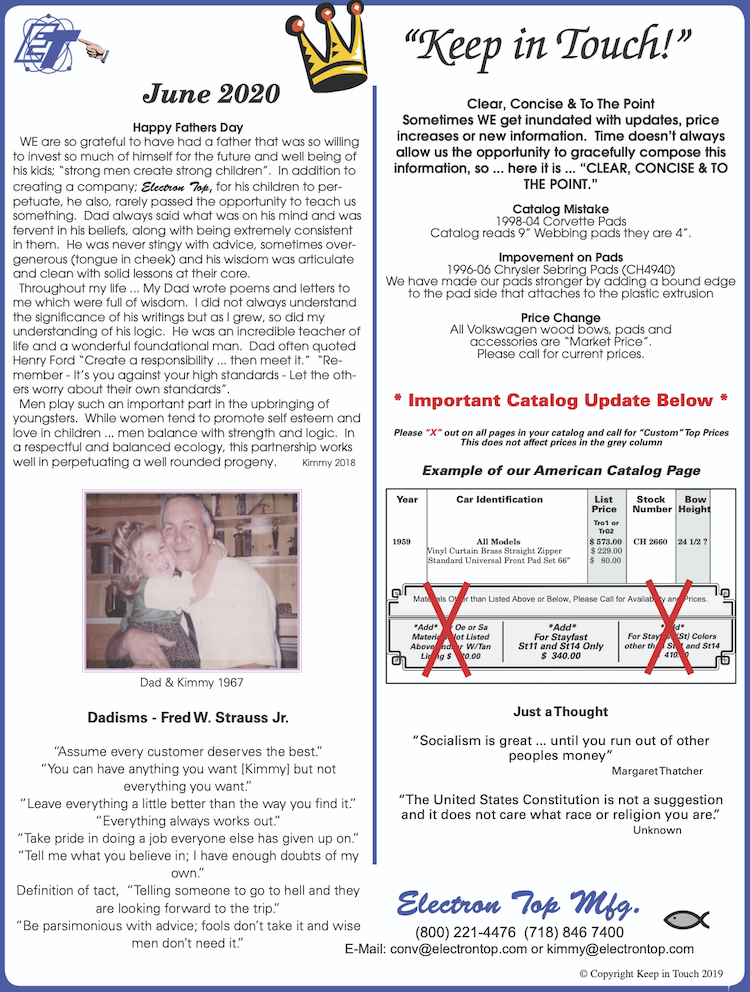 The newsletter continues with important product information and catalog updates you don't want to miss. Among them:
Electron Top has improved its pads for the 1996-2006 Chrysler Sebring by adding a bound edge to the pad side that attaches to the plastic extrusion.
Also, there's an error in the current catalog. Webbing pads for the 1998-2004 Corvette are not 9″. They are 4″
Electron Top is a leading manufacturer of quality convertible tops that puts their hearts and souls into everything they do. They're honest, fair, loyal and transparent about their business practices.
In fact, Electron Top is one of the few convertible top manufacturers in our industry that manufactures its products in the USA and does not sell directly to the public, so as to protect small, independent auto upholstery shops.
Please show your appreciation and support by setting up a business account today. Visit ElectronTop.com or call (800) 221-4476.