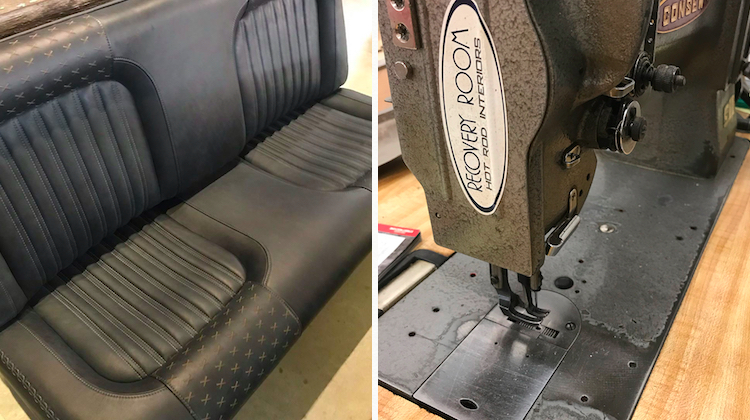 Tired of the same old, boring bench seat design? Then check out this bad ass by Recovery Room Hot Rod Interiors.
It's the latest project by master trimmer Tracy Weaver. He built it for Kyle Cochran of Rustic Nail & Co., who was looking for a distressed-looking seat to match his design company's 1957 GMC.
Tracy, of course, pulled out all the stops – custom foam work, distressed leather, decorative stitching, laser engraving and more.
Kyle was ecstatic with the results. "I'm beyond thrilled with the work from Tracy on this seat for the '57 GMC," he wrote on Instagram. "It's not only a work of art, but fits the truck with its style and look."
"Tracy my friend, you are a true craftsman. I'm so glad I just turned you loose to do your thing. A huge thanks to Hydes Leather for a phenomenal product. I love the color and distressed look and feel," he added.
Curious about the design and build process, we reached out Tracy to learn more about this unique bench seat. Here's what he told us:
Kyle implies you came up with the seat design entirely by yourself. Is that true?
He pretty much let me do my own thing after we talked about different directions to go. He wanted something that was on the dark side of colors to go with the charcoal colored wheels and other details on the truck. Since it has a "Patina" looking body, we both decided on a distressed look.
Kyle is a very talented designer and builder of commercial and residential projects, so having him trust me was something I took serious. I would send him some ideas and thoughts, then we would narrow it down. Then I just did my thing with coming up with the shape and layout.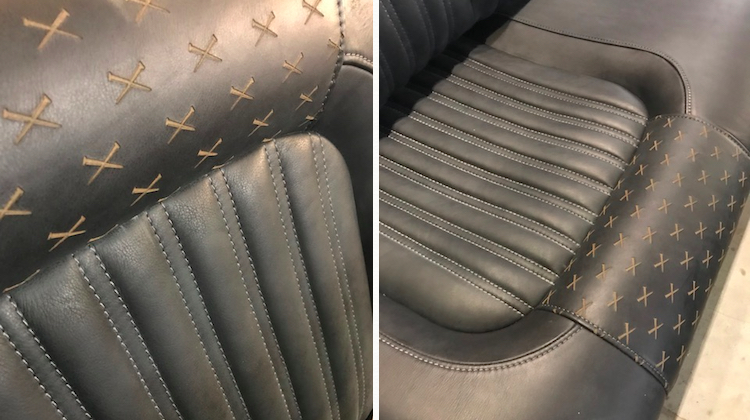 When building a custom bench seat like this, do you prefer to use an OEM or aftermarket frame?
In this project, I used the factory "OBS" Chevy truck seat to start with because it was already mounted and set up for his truck. A lot of truck seats we do are based off the original frames, especially the Square bodies.
If we are doing the whole interior, I prefer to use a blank frame from Bowen Foam & Fabrics, then we can cut and shape the foam the way the customer likes it. Kyle's seat was refoamed to give it a shape I liked and thought would work with the modern/vintage combo.
Did you make any structural changes to the frame? It looks like it might have an upholstered back plate.
The frame was left alone, but I completely reworked the foam. An upper back plate was made on the back of the seat to give it a different feel/look just because I thought it would look cool.
What type of sewing machine did you use to achieve the decorative cross stitch around the seat's perimeter?
I used a Consew DSM machine for the decorative stitching. It's a mechanical machine versus computer controlled ones. Never has a problem! It's a beast and can also punch through 1/4 thick leather.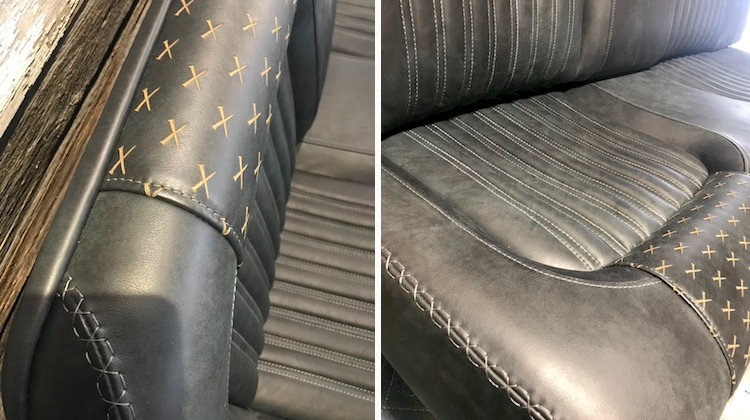 The Rustic Nail engraving is a unique touch. How did you come up with the idea? Was it done in-house?
The Rustic Nail logo was done in-house with laser. I was just trying to come up with something different to do. I did a quick sample and showed Kyle after talking about it and he said, "Go for it!"
I just worked out sizing and placement once I started shaping foam. I thought it would be a cool touch for his shop truck and tie-in to his business. It worked out really well
How is the upholstery fastened to the foam?
We glued and used listings with tie offs on this seat – most everything we do anymore is done this way. The listings and strings pulled through around the inserts give it a defined look.
Why did you turn to Hydes Leather for the vintage black leather? What was the order process like?
I use a lot of Hydes Leather because of the quality of their hides, and they had the perfect color I was looking for on this project. There's some really good choices in the Vintage line. The ordering process is very easy and seamless.
I've always been impressed with their service. Hydes has always came through with products and service when needed.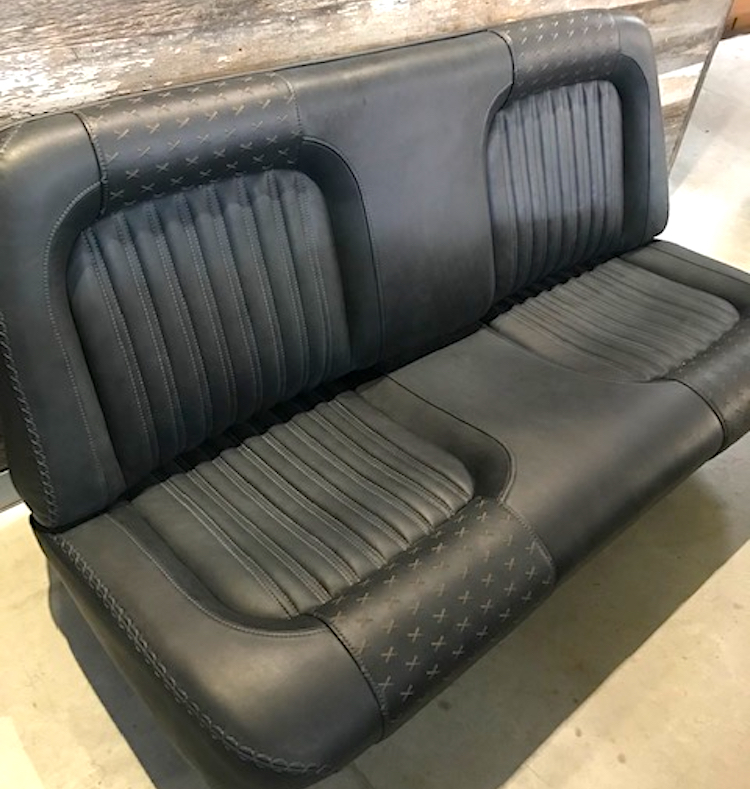 What was it like working with Kyle, another creative craftsman?
Working with Kyle has been a great experience. We have become friends through this and have many other projects coming up. I'm very excited about working on some unusual and great things on his business side and cars. It's always rewarding to work with creative people.
Learn more about Recovery Room Hot Rod Interiors by following them on Instagram and Facebook.