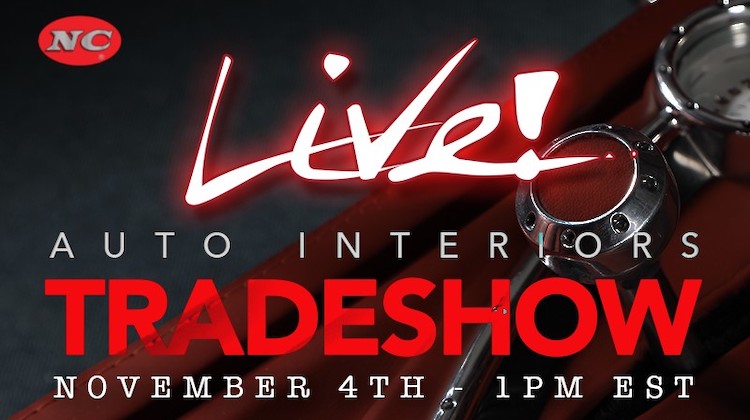 NC Carpet Binding & Equipment is hosting the auto upholstery and trim industry's first-ever virtual trade show — and trust us, you don't want to miss it.
CEO Mal Maher will take to Facebook Live on November 4 at 1:00 pm ET to show you their full line of premium industrial sewing machines, sergers, skivers and more.
Basically, everything you were expecting to see and experience at NC's SEMA booth, you'll see online. That includes huge discounts, cameos from your favorite trimmers and even a chance to win a 30″ long arm sewing machine. That's NC's biggest ever giveaway!
"If you're upset about SEMA and NBAA being cancelled, this is perfect for you," said Mal. "The same deals are available and you can interact with us.  Fire off some questions and we'll answer them during the live event. You'll see the NC Team members on chat as well:  Cato's, Stitchcraft, Shannon, Bux, Vos, Custom Stitching, Sewn Tight, The Hog Ring, and even me.  While you're there, win our 30" Long Arm."
Here's a sample of what you can expect…
Huge Discounts
Mal and the NC team will provide live demos and answer your questions about their best selling machines, which have all been discounted:
NC6 Single Needle Sewing Machine: $1850 / Now $1649
On sale since the 1970s, this single-needle, walking-foot is a workhorse.
NC6L 30" Long Arm Sewing Machine: $4900 / Now $4299
How about a 30" long-arm? This is NC's biggest selling specialty unit.
NC11 Double Needle Sewing Machine: $3500 / Now $3099
Imagine all the possibilities with this twin-needle, flat-bed walking-foot.
NC11L Long Arm Twin Needle Sewing Machine: $5500 / Now $4799
Need increased height? This 25" twin-needle, long-arm will do the trick.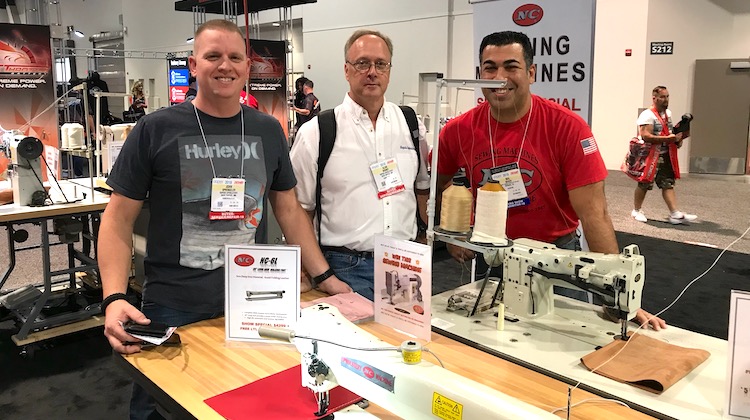 NC1508NH Extra Heavy Duty Sewing Machine: $1950 / Now $1749
Sew anything with ease with this extra heavy-duty, walking-foot.
NC-Post Twin Needle Post Bed Sewing Machine: $3950 / Now $3499
This twin-needle, post-bed, walking-foot machine is equipped with a split bar.
NC553 Cylinder Bed Sewing Machine: $2700 / Now $2299
Great low cost alternative to a post bed.  Perfect for headrests and cylindrical applications.
NC Leather Skiver SK2019: $1600 / Now $1299
Get rid of unsightly bulk with this new leather skiver, complete with servo motor workstation, vacuum system and cutout setup.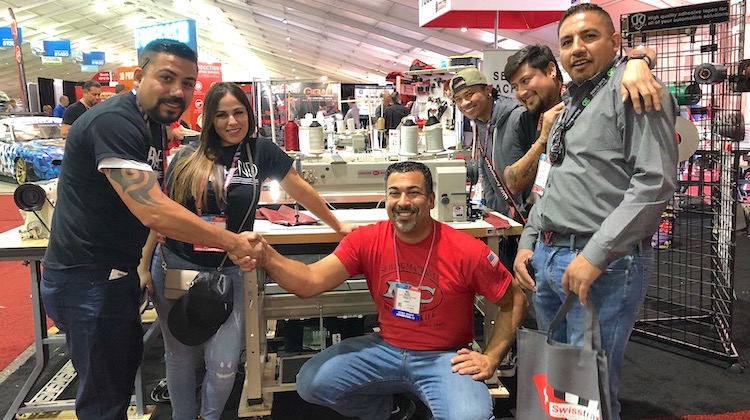 NC1508L25 Extra Heavy Duty 20″ Long Arm Sewing Machine: $5750 / Now $4899
This extra heavy duty 25" long arm pretty much does it all, and comes with a servo workstation to boot.
NC1508NH-B Heavy Duty Carpet Binder: $2500 / Now $2199
A lockstitch heavy duty carpet binder that's perfect for auto, aircraft and marine applications.
BAC Ultimate Cornering Binder: $8000 / Now $7199
Bind acute angles, inside circles, and inside turns quickly and easily with this machine.
81200AIR Ultimate Cornering Serger with Auto Mat Setup:  $6750 / Now $6099
This industry standard machine has been made in the USA for more than 70 years.
NC5L 20" Long Arm Zig Zag Sewing Machine: $5500 / Now $4899
From straight stitches to zig zags, this 21" walking-foot machine has you covered.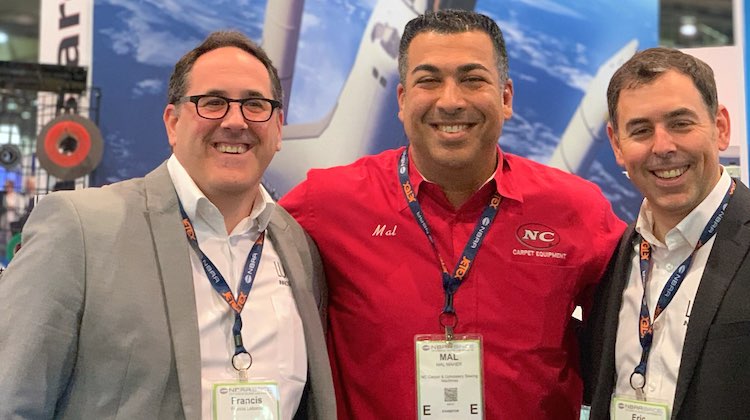 See a machine you like? Ask Mal a question. He'll tell you everything you need to know during the event, and can even chat with you afterwards.
Best of all, sale prices are good October 12 – November 6, 5pm ET.
Cameo Appearances
What's a trade show without industry pros stopping by to say hello?
Throughout the event, trimmers from your favorite trim shops will stop by to talk shop, answer questions and more.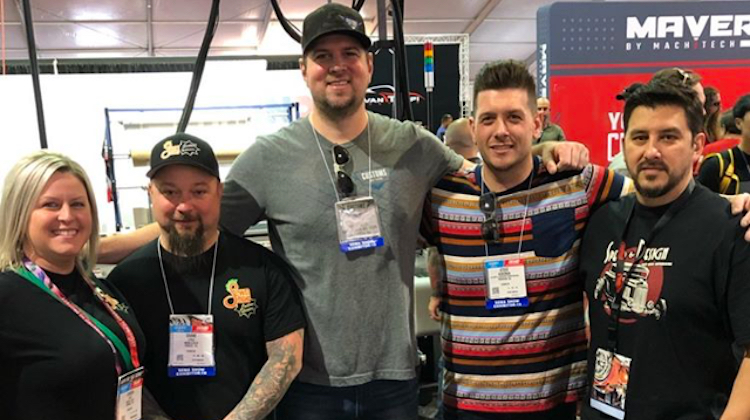 "I'm most excited about the cameo's that will be done by some of the industry's best," said Mal.
Here are some of the shops you can expect to hear from:
It's a great opportunity to network with top shops. Of course, The Hog Ring will also be there!
NC's Biggest Giveaway Ever
To mark the occasion, NC is giving away its biggest prize ever!
One lucky trimmer will take home a NC6L 30″ Long Arm Sewing Machine. That's a $5,000 value + free freight!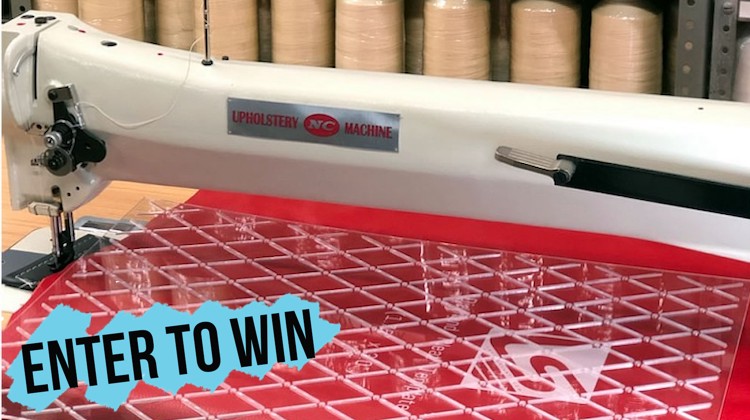 "The giveaway of our 30″ Long Arm is our biggest yet," said Mal. "This $5,000 machine will elevate any workroom and is employed by hundreds of trimmers worldwide. All you have to do is tune in, share the event and tag NC."
Trust us, this machine is a game changer! It'll take your workflow and projects to an entirely new level.
To enter, simply follow these two steps:
Tune into the NC Virtual Trade Show on November 4th at 1pm ET on Facebook.
Share the livestream video on your Facebook page before or after the event.
For a bonus entry, tag NC Carpet Binding on Facebook or Instagram, showing off your latest project.
Don't Miss This!
NC's virtual trade show is an industry first! The more people that participate, the more successful it'll be.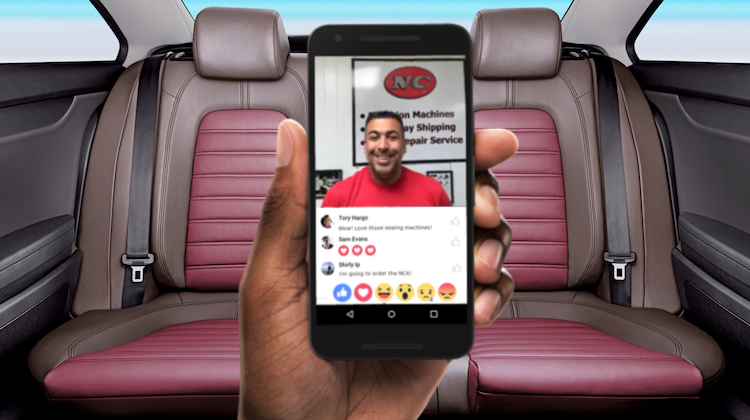 Let's continue making industry history. Tune in on November 4, save money, network with other pros and maybe even take home a free long arm machine!
"NC doesn't sit on the sidelines for anything," said Mal. "This is something you don't want to miss and please share your ideas. Maybe we'll include them and you! Join us when we go live!"
It's going to be a blast! We'll see you there!
To learn more about NC Carpet Binding & Equipment, visit N-CCarpet.com or call 1-800-526-1184   You can also follow them on Instagram and Facebook.