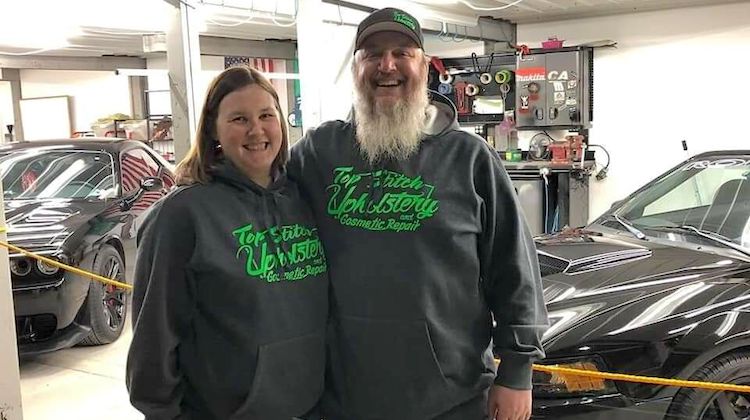 TopStitch Upholstery had just made it through a devastating flood when the coronavirus pandemic struck. But by staying positive and adapting, they managed to thrive.
The Columbus Telegram recently profiled the Nebraska shop, which is owned and operated by Matt and Heather Giffrow.
They spoke about how beaten they felt when their auto trim and detail shop flooded with 3 feet of water, which insurance didn't fully cover.
"'I can't do this again,'" Matt remembered thinking. "But everything kind of kept rolling, so we just kind of kept things going. I knew we couldn't afford to have another bad year."
Then coronavirus started making headlines, and the Giffrows had to think fast.
"We were pretty fortunate, too, because we had our construction project that was done when we opened downtown, Jan. 2 of 2020," Heather said. "We were very fortunate that we did some quick planning and rolled an open house together in February of 2020, you know, right before the virus really started to impact everyone."
The building was large enough for the team safely operate. "We can stay pretty far away from each other in this building," Matt added. "We're around cleaning stuff all day long."
In the past, the couple would market their business in traditional ways — such as handing out fliers, attending car shows and networking with car clubs and related businesses. But because of the pandemic, they turned to social media.
"Facebook has helped us a ton, we're always trying to post stuff on Facebook, from specials that we've got going on or just letting people know what's going on in the shop," Matt said. "With people being quarantined, you find yourselves on your phone more."
People also seemed to have more time for interior repair and custom projects, Heather said.
"I think people were doing more projects and had a little bit more time on their hands," she said. "They were able to focus more on that kind of stuff… and still supporting us here locally."
By remaining positive and adapting their operations to the circumstances, the couple say their business was able to thrive in a down economy. In fact, they even had the budget to hire a manager.
"We had a really good year," Matt said. "…You just (have) to stay positive and just kind of roll with the punches. I mean, you're going to have your days and your hurdles and you just (have) to pull together and get through it."
To read the full story, check out 'Roll with the Punches': TopStitch Perseveres Through Trying Times.
Related Stories: