Detroit Body Products, longtime supplier of OEM fabrics and publisher of the popular Detroit Book, is officially out of business.
Founded in 1955, Detroit Body Products was the largest supplier of automotive textile closeouts in North America. They stocked nearly 4 million yards of original automotive fabric, vinyl, headlining and genuine leather.
Its annual sample book, simply called the Detroit Book, was a staple in auto upholstery shops for decades. The book was produced in limited quantity and sold to industry suppliers, who branded them with their logos and resold them to auto upholstery shops. Trimmers used the books to place orders through their suppliers for hard-to-find OEM fabrics.
The book was in such short supply that new trimmers often had to wait for older ones to close their shops or pass away in order to buy a complete set.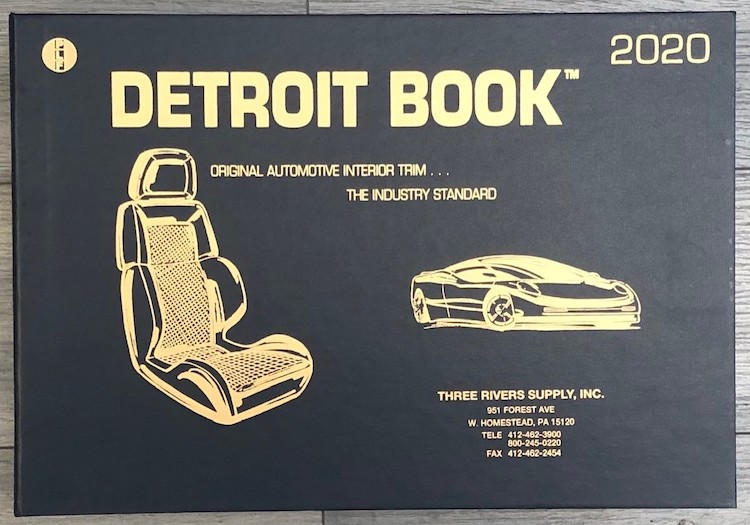 As for Detroit Body Products' massive inventory of OEM fabrics, it all goes up for auction in Wixom, Michigan, on June 5 – 8, 2021. For details, visit RJM Auctioneers.
The closing of Detroit Body Products marks the end of an era for our industry. Fortunately, there is an alternative.
Albright's Supply had the extraordinary foresight to launch a digital database of OEM fabrics in 2017: AutoOriginals.com.
The database works just like the Detroit Book, except it's free and online.
Simply visit AutoOriginals.com and select the vehicle you're looking for — including year, make and model. Hit "Search" and the database will show you a photo and product number for the exact fabric you need.
If Albright's Supply has the fabric in stock, it will appear with a "Buy Now" link below the photo. Click it and you'll be taken directly to their online store where you can place an order.
Albright's Supply keeps thousands of OEM fabrics in stock, which means you won't have to wait long to receive your order. Best of all, if they don't carry the fabric you're looking for, they'll search other inventories across North America to find it.
Still, you might want to hold on to your Detroit Books for posterity.
Related Stories: