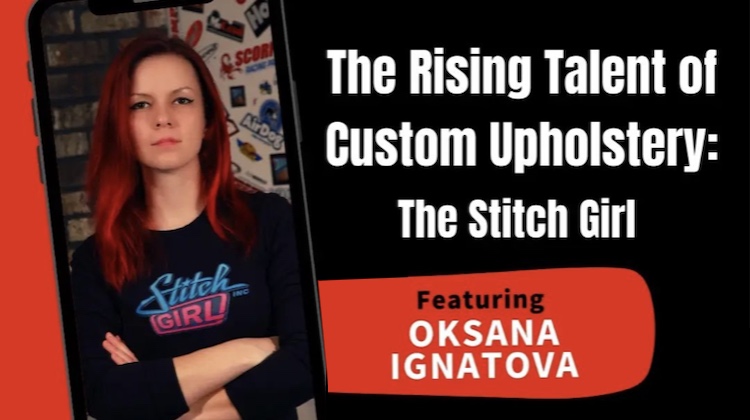 Tune in to the latest episode of NC Shop Talk to hear Oksana Ignatova of Stitch Girl Inc. talk about her growing custom interior shop in Wauconda, Illinois.
NC Shop Talk is the industry's first podcast. It's hosted by Mal Maher of NC Carpet Binding & Equipment.
In the podcast, Oksana talks about her move from Belarus to the United States, the high-tech tools she uses in her shop, and even name drops one of her favorite trimmers.
The Rising Talent of Custom Upholstery: The Stitch Girl with Oksana Ignatova
In today's episode, Mal Maher welcomes Oksana Ignatova of Stitch Girl Inc., a fast-rising talent in custom interiors. Oksana tried her hand at upholstery at the age of 23 and fell in love with it. Originally from Belarus, she moved to the U.S. with her husband to pursue the American dream. Fueled by her passion for sewing and making creative ideas come to life, Oksana has developed her craft to the level of an expert in just six years.
Her love for her art drives her to learn new techniques and employ state-of-the-art tools. She enjoys working on unique projects that bring out her creativity and keen attention to detail, ensuring that every stitch counts. As you listen to this episode, you can hear and feel Oksana's determination to be the best she can be.
You can listen to the episode on Apple Podcasts, Spotify or anywhere else you stream. Just click here, and make sure to subscribe!
To learn more about NC Carpet Binding and Equipment, visit their website and follow them on Instagram and Facebook.
Related Stories: