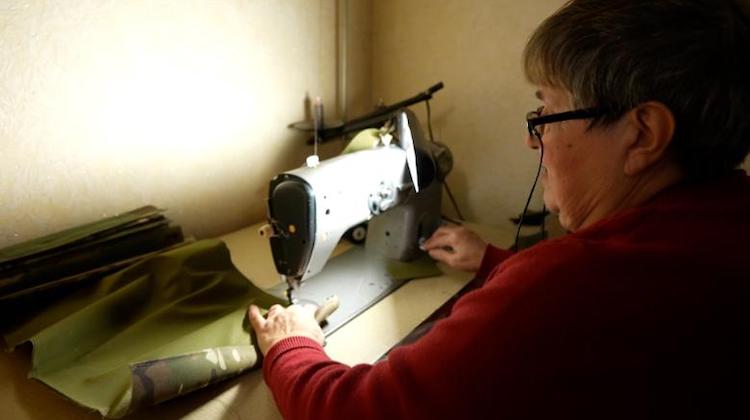 Ukrainian sewing machine operators have stopped stitching clothes and upholstery to focus on making body armor for soldiers and resistance fighters batting Russian forces.
Together, the sewing machine operators have formed an improvised production chain that spans cities and towns across the country. They are sewing flak jackets and balaclavas, among other military clothing.
CNN documented the effort in a recent article titled "Ukrainians are making homemade body armor to send to frontline troops." Here's a an excerpt:
Irina Protchenko, 68, sings the Ukrainian anthem while steadily working at her sewing machine in a small apartment in central Ukraine. She retired not long ago from a factory in the outskirts of Kyiv, where she spent 50 years tailoring men's suits and coats for clothing giants such as Hugo Boss and Lacoste.
She should be enjoying a life of leisure after decades of hard work. Instead, she's sewing flak jackets and balaclavas with her children and grandchildren for Ukrainians traveling east to protect their country from Russian invasion.
"I should be sewing tuxedos for weddings," not flak jackets, she told CNN. Her sewing machine is pushed against the corner of the living room, surrounded by rolls of fabric, Velcro, and cut-up car floor mats — supplies either purchased by the family or donated.
"The biggest reward will be if one of these flak jackets saves the life of one of our defenders," Protchenko said as she proudly held up a finished vest. With each finished vest, she counts it as one more victory for Ukraine.
Russia invaded Ukraine in late February, triggering a humanitarian disaster. As of Friday, at least 847 civilians have been killed, according to the United Nations Human Rights Office. More than three million people have fled Russia's bombing of civilian centers, causing a refugee crisis.
Prior to the war, most of the sewing machine operators had never seen a flak jacket, let alone sewn one. CNN reports that some pulled images and videos of flak jackets off the internet to copy. For armor plates, they use scrap metal.
Of course, this isn't the first time sewing machine operators have used their skills to address a major international crisis. At the height of the coronavirus pandemic, many dropped their work to sew face masks.