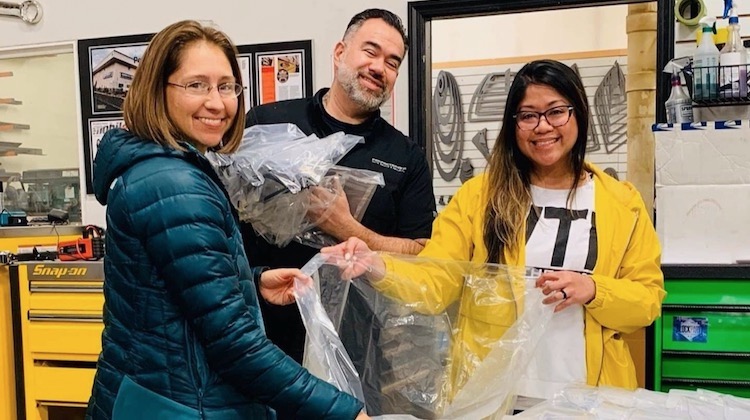 Auto trimmers across North America are making face masks and shields to help medical professionals on the frontlines of the fight against coronavirus.
As the pandemic grows, hospitals are warning of dangerous shortages in personal protective equipment, particularly face masks and face shields. Health officials warn that the shortfall could spell tragedy for countless first responders and care givers.
Authorities are calling on anyone with access to safety and medical supplies to donate them to nearby hospitals. Doing so will protect health practitioners and help stem the tide of the pandemic.
Trimmers are uniquely positioned to help because we have access to materials and supplies used in the manufacturing of face masks and shields, and the expertise to make them.
Many trim shops have already suspended their work to focus on making face masks and shields for local hospitals.
Here are just a few shops doing their part to combat coronavirus:
Please Be Seated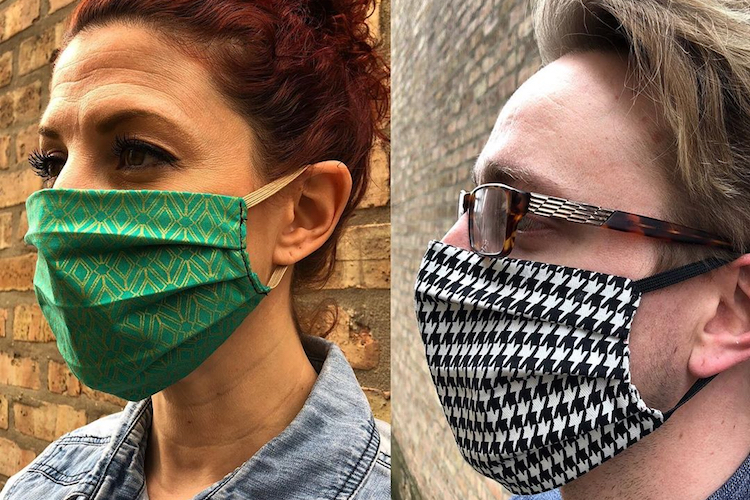 Dane Utech of Please Be Seated in Chicago, Illinois, has been sewing masks in medium and large sizes to be donated to local hospitals. He has also been encouraging peers to do the same.
"The worldwide need for basic personal protective equipment is overwhelming," he wrote on Instagram. "Use your craft to replenish local community service workers in desperate need."
"If you have access or the ability to sew, take action," Dane added. His Instagram post includes patterns to create medium and large face masks.
He also noted that shop-made masks are not as protective as hospital N95 masks, "but it's better than nothing."
Sid Chavers Company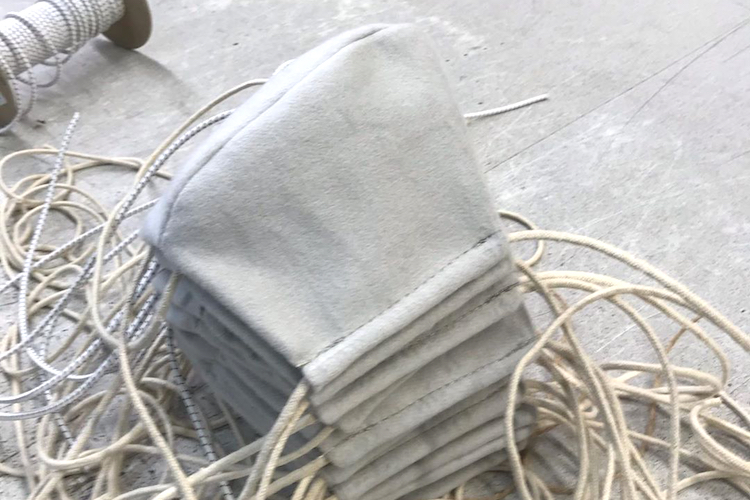 Sid Chavers of Sid Chavers Company in Santa Clara, California, has also been sewing face masks and encouraging his nearly 10,000 followers on Instagram to do the same.
He shared photos of his face masks. In the caption, he wrote: "Ok fellow trimmers, lots of hospitals are running out of masks… do what you can to donate to your local hospitals."
He also linked to www.freesewing.org, which provides free templates for small, medium and large medical face masks.
Precision Stitch Works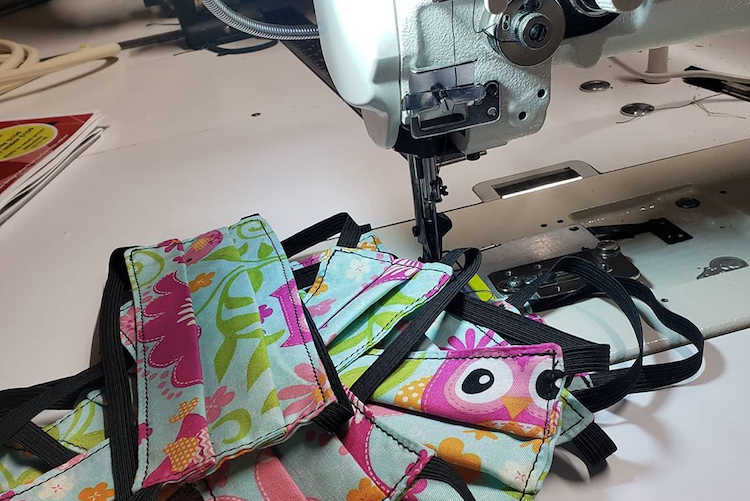 Mitchell Fillyaw of Precision Stitch Works in Athens, Tennessee, is not only sewing face masks for local emergency medical services (EMS), but also mailing them to cancer centers for use by patients undergoing chemotherapy.
"I believe that we've all been blessed with certain abilities and if we can use those abilities to help others, then I feel like we are obligated to help," he said.
"I have friends that work in the medical field and they are grateful for the volunteers that have stepped up and donated. If other shops are interested there are plenty of resources available online. I googled mask pattern and it pulled up plenty of links as well as some places to donate to."
JM Upholstery Plus
Jose Martinez and Tom Bradley of JM Upholstery Plus in Toronto, Canada, are sewing masks and shields for health care professionals in Ontario. Their goal is to make at least 2,500 masks.
A photo posted on Instagram shows some of the masks in front of a banner that reads: "Helping our city to combat Covid-19. Please stay home!"
"My wife works in the health care community with elderly. My parents are also elderly, and it hit home the moment we thought I can lose them," said Jose. "The idea of our country not being prepared with the correct equipment, to protect themselves, was also a scary thought."
"We are losing business, but we are gaining more helping out the frontline health workers," he added.
They're also making face shields to pair with the masks for added protection.
Bux Customs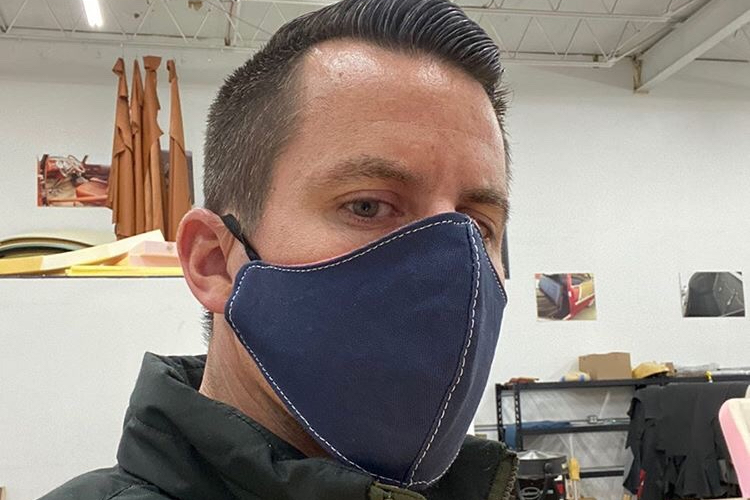 Chris McClintock of Bux Customs in Pottstown, Pennsylvania, is also making face masks for health care professionals and other vulnerable people.
He made sure to label his masks "not medical grade," but with the pandemic growing, all thick, well-fitting face masks help.
"Now is the time for us to pull together, use the skill set we have and our resources to help others," Chris said. "This is nothing compared to what others are doing. I'm just happy to help."
Rich Phillips Cycles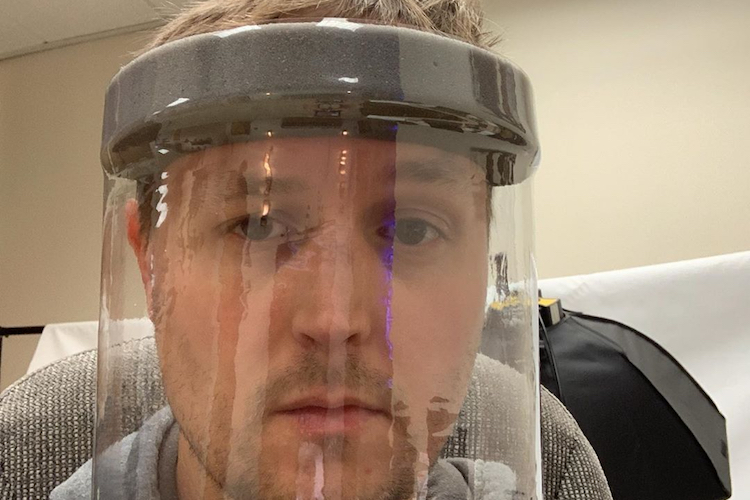 Rich Grabbe of Rich Phillips Cycles in Saint Charles, Missouri, designed a face shield that doesn't require special equipment to manufacture.
"I have heard there is a need for face shields for medical workers," he said on Instagram. "I am gearing up to make some basic ones. I would love to help where I can."
He even posted a how-to video on Instagram to teach other trimmers how to make the shields. In the video, he lays out all the materials and tools used in the build process.
JK Automotive Designs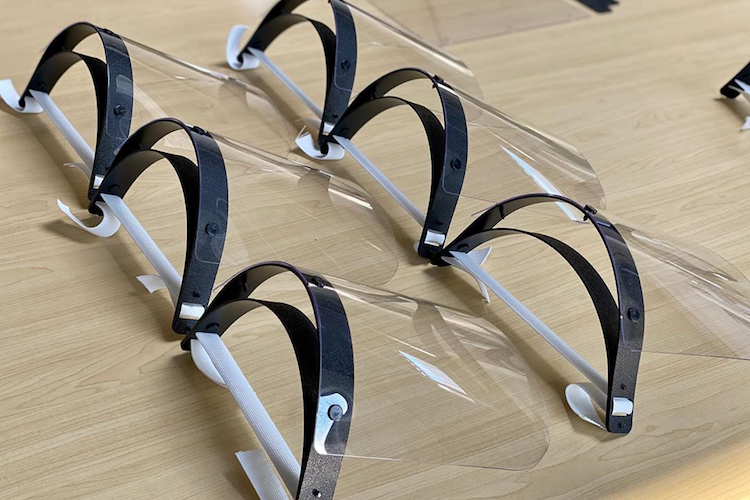 Jeremy Katz of JK Automotive Designs in Stoneham, Massachusetts, is leading a movement of trim and audio shops that are manufacturing face shields for medical professionals
Jeremy and coworker Evan Collins designed the face shield and shared the CAD files with other shops equipped with laser cutting machines.
Together, the shops have already manufactured and delivered thousands of face shields. They have plans to make thousands more — but need our help!
They set up a GoFundMe to raise money to cover the costs of materials.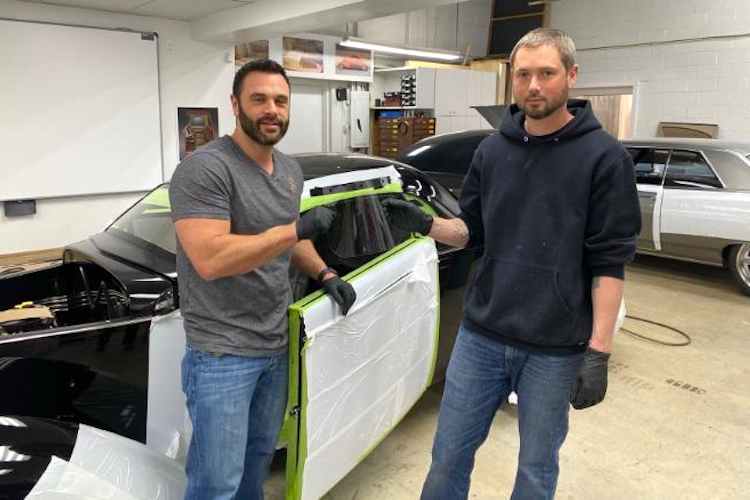 "We are donating our time and our equipment to the cause. We would appreciate your support for the cost of the materials," they said on the GoFundMe page.
"Money collected through this fundraiser will be distributed to shops that can source materials quickly and reliably. We are not adding any overhead expenses, and every penny will go towards making laser-cut face shields to keep frontline workers safe and help reduce the transmission of COVID-19."
Among the many shops participating are DJ Designs, Avant-Garde Design, Recovery Room Hot Rod Interiors and Mobile Solutions.
You Can Help Too!
Thank you to every trimmer donating time, labor, materials and money to help our communities survive this deadly pandemic.
The outcome looks grim, but it would be much worse without your life-saving efforts. You truly are an inspiration to us all.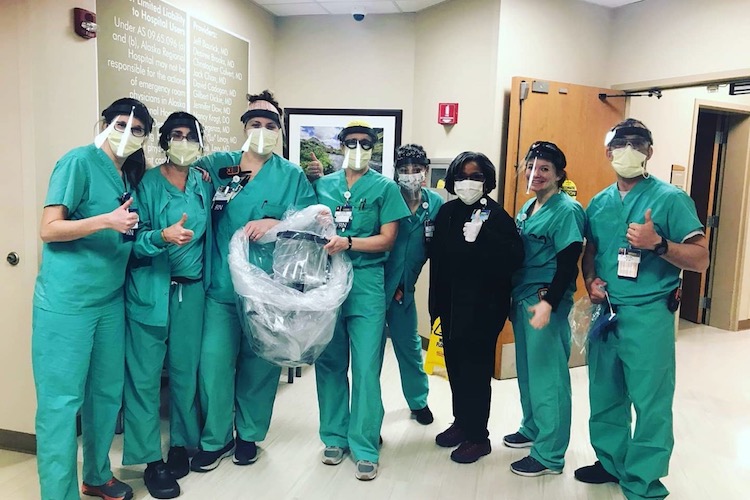 If you're a trimmer interested in making personal protective gear for health care workers, please don't put it off. The sooner we respond, the more lives we can save.
If you are unable to make face masks and other equipment, but still want to help, consider donating to other shops to help offset the costs of materials. In most cases, you can reach the shops directly on Instagram or Facebook.
Stay safe, healthy and hopeful.
Related Stories: