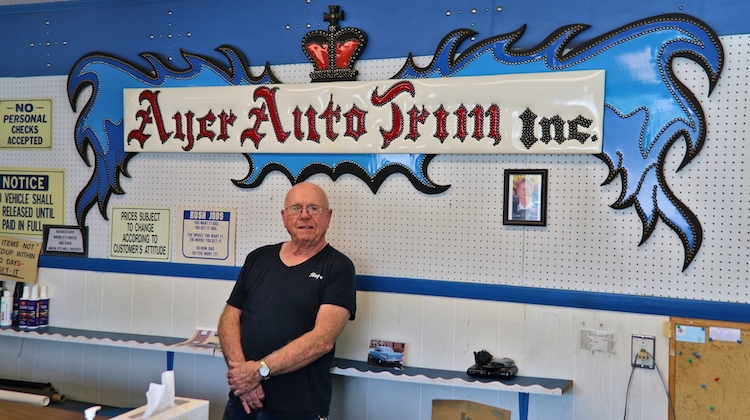 Let's take a moment to salute Ayer Auto Trim, which recently closed its doors for the final time after 43 years in business.
Roger McPadden, who founded the shop in 1979 in Ayer, Massachusetts, said he felt blessed to be able to run a successful shop for so long, but the time has come to call it quits.
"I just want to thank Ayer and the surrounding towns, anyone that ever took the time to come down to Ayer Auto Trim," Roger told Sentinel & Enterprise. "I wholeheartedly thank each and every one of them for the trust they've put into my work and the support they've given me, my family and the business."
"It's been tough, but I truly was blessed with this business and by everyone I've met through it," he added.
"I loved everything about it, I loved working around cars."
Roger began working in upholstery shortly after high school. In 1975, he established a trim and detail shop with a friend, but bought him out six months later and ventured out on his own. Four years later, he moved locations and christened the business Ayer Auto Trim.
The business found success upholstering cars, boats, aircraft and furniture. They also detailed vehicles.
Roger told Sentinel & Enterprise there were three keys to his success: A supportive wife and partner, the high standards he set for himself, and the power of word-of-mouth marketing.
"My business card says 'The bitterness of poor quality remains long after the sweetness of low price is forgotten,'" he said. "I've done everything I can to abide by that, I tried to embody that in everything I did here, even if it meant I was a bit more expensive than someone else."
Roger added: "I've always thought word of mouth was always my best advertisement. Through the years, I'm fairly certain most of our customers were either repeat customers or their friends and family. I've always tried to put my work first – and that's what's kept people coming back."
The closing is bitter sweet. Roger, who is 77, wanted to keep working for a few more years, but health issues got in the way.
"I wanted to stay in business at least until I was 80," he said. "It didn't work out that way, but I wanted to make the decision [to retire] while the decision was mine, while I still had my faculties."
"Right now, I'm just focused on closing up, taking some time for myself and spending time with my family."
Please join us in wishing him a happy, healthy and fulfilling retirement.
Related Stories: