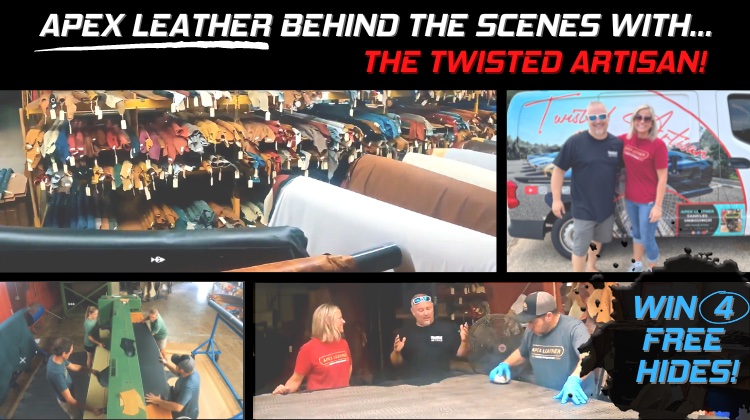 Congrats to Bret Harbison of Concord Customs in Brentwood, Tennessee, for winning Apex Leather's four hides giveaway.
Apex Leather partnered with Shawn Brando of The Twisted Artisan on a behind-the-scenes video highlighting Apex's facility in North Carolina. Trimmers who watched the video only had to comment #apexleather on the YouTube video or Apex Leather's Instagram "Behind The Scenes" post to enter the contest.
Apex Leather announced the winner in an Instagram live video on Friday, September 2.
Bret took home the top prize of four free leather hides! Five other winners, who received newly released Apex Leather T-shirts, included Erick Fuentes of New Vision Upholstery, Old Town Upholstery, Florida Boy Customs, Sully Stitches, and Dream Car Customs.
Based in Hickory, North Carolina, Apex Leather is a leading provider of aftermarket automotive solutions. They have decades of experience in leather production, and strive to be a "one stop shop" for auto trimmers. They carry smooth, natural, and pebble grain auto leathers, Serafil threads, Dinamica Microsuede, and now Apex Ultra Square Weave carpet.
For more details, check out www.ApexLeather.com, or follow Apex on Facebook and Instagram. Apex is ready to help you take your auto interiors to the next level.
Related Stories: